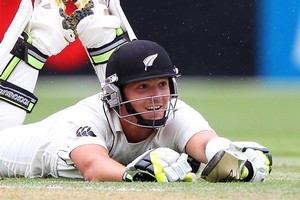 John Wright's messages seem to be getting through to the Black Caps. They are starting to understand how to play five-day cricket.
I know it sounds a bit stupid, but the key to playing five-day cricket is that you've got to be able to play for five days. That means you've got to be able to bat for long periods of time.
There was a real sense of purpose about the batsmen on that first day. Brendon McCullum and Ross Taylor were the key. Ross played very well late in the day, but both he and Brendon benefited from being patient at the start and being very clear about looking to bat time.
Beating Australia in Hobart has been great for this team. Certainly in terms of the individual players their discipline is improving and their ability to switch from one form of the game to another has also improved significantly. Brendon is a good example of that.
That innings he played on Thursday was out of character for a player who loves to dominate, and came after a steady diet of T20 cricket.
The whole day was about partnerships and batting as a team and that is not something this team has done a whole lot of. That approach to test cricket is a big thing for Wrighty, so it looks like his messages are starting to sink in.
BJ Watling's innings showed just what an asset he can be. He's a very good player. I'm not a fan of using a part-time wicketkeeper, but I'm not being critical of BJ and saying he's part-time in terms of his ability. He's part-time in terms of his circumstances. I imagine that will change. He needs to be keeping wicket as often as possible. To do the job to test standard you have to be a wicketkeeper full-time.
That applies to everybody, not just to BJ. It took me eight or nine years at international level until I was truly happy with my work behind the stumps.
It's a tough, tough job, particularly on days four and five in a test match when you have to stand up to the stumps. You need to be bloody good. Experience is the key, but you don't actually get to do it all that often, which is why it takes so long to develop. Keeping in the Plunket Shield will be a massive help for BJ. Even day-four pitches in those games can be pretty tasty. They are long days that develop your mental strength. The bottom line is you can't become a better keeper unless you are keeping wicket.
If BJ averages between 25 and 35 with the bat and takes eight out of 10 chances he'll be a decent asset. It's a trade-off between the volume of runs produced relative to the cost of the opportunities missed. If you never drop one and you average around 25 you are a pretty handy player. But you can't afford to drop too many.