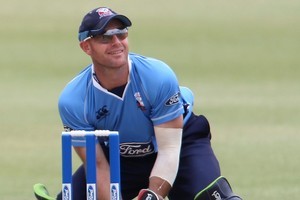 With one title safely stashed away, Auckland's bid to retain their other limited-overs crown starts today.
Auckland lead the Ford Trophy 50-over competition at the halfway stage and will look to press on when they play Northern Districts at Colin Maiden Park today.
The key will be parking the euphoria at beating Canterbury in the HRV Cup last Sunday to earn another trip to the Champions League later this year and get the gaze fixed again on the longer of the two short-form games.
And Auckland have opted to stick with the players who have done the T20 job. The only changes are necessary.
Opener Martin Guptill and seamer Chris Martin are on test duty, while Pakistani import Azhar Mahmood has departed, his job completed impressively.
Former test opener Tim McIntosh is in for Guptill, and left armer Mitchell McClenaghan gets Martin's spot in the Auckland 12 for today.
McIntosh was on Auckland A duty at the provincial tournament in Lincoln earlier this month, hitting one century in a 50-over game against Wellington, while McClenaghan was among Auckland's more successful bowlers at that tournament.
As for ND, they are without three injured players, Joey Yovich, Corey Anderson and Daniel Flynn, and are missing five test players - Kane Williamson, Dan Vettori, BJ Watling, Tim Southee and Trent Boult - and need to hit the ground smartly if they are to be a factor in the competition.
They managed one win from their first five games, and lost by six wickets to Auckland at Mt Maunganui on December 7.
In today's other games, Otago host Central Districts in Invercargill - CD boosted by the return of Kruger van Wyk, who missed out on the gloves in the test against Zimbabwe - and Wellington play Canterbury in the capital.
Points after five rounds: Auckland 15, Otago 13, Canterbury 13, Central Districts 11, ND 6, Wellington 6.
FORD TROPHY
Auckland v Northern Districts
Colin Maiden Park, from 11am today
Auckland: Gareth Hopkins (c), Brad Cachopa, Tim McIntosh, Anaru Kitchen, Colin de Grandhomme, Colin Munro, Andre Adams, Kyle Mills, Ronnie Hira, Mitchell McClenaghan, Bruce Martin, Michael Bates.
ND: James Marshall (c), Brad Wilson, Brook Hatwell, Hamish Marshall, Anton Devcich, Daryl Mitchell, Peter McGlashan, Brandon Hiini, James Baker, Jono Boult, Graeme Aldridge, Brent Arnel.