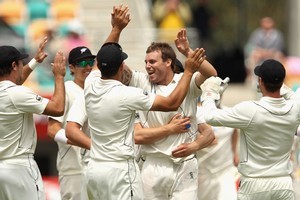 The Black Caps are using their historic victory against Australia before Christmas as a catalyst to boost their test record.
But batsman Brendon McCullum says while a mental switch is needed from the domestic Twenty20 competition to the five-day format there's no excuse for batsmen not getting the job done when the one-off test match against Zimbabwe starts in Napier tomorrow.
"I'm under no illusion I have to score runs to keep my place and it shouldn't be any other way,'' the explosive opener said at McLean Park.
The Otago Volts' player felt it was vital to pick runs when the opportunity arose but it was equally crucial to be a little tight on defence.
"Ultimately it comes down to runs and averages so it's hard to go to the selectors to say I've batted one and a-half hours for 12 runs,'' he said, revealing he had done that once.
McCullum, whose aggressiveness in test matches has drawn criticism, said he loved batting in Napier.
"We have got to be mindful that we pay the opposition the respect they deserve and, when we get the opportunity, to kick on,'' he said, adding the senior players had discussed the importance of ensuring the Australia victory wasn't a flash in the pan.
Middle-order batsman Dean Brownlie said the top six batsmen were quite disappointed with their effort in the Brisbane and Tasmania tests.
"We think we've got the best six that can do the job and in the future as well,'' said the 27-year-old Western Australian-born who has played only three tests but has the highest score of 77 not out against the Aussies.
A grafter who patiently works his way into an innings, Brownlie has three first-class tons with the highest score of 171 runs but felt batsmen should play to their strengths.
"If I had the shots of Brendon McCullum and Ross Taylor I'd be playing them, too.
"So I'm limited in terms of what those guys have so I try to do what I can and it seems to work the best for me, so I'll stick to that.''
Playing his first test in New Zealand from tomorrow, the Canterbury Wizard said he had picked the brains of a few New Zealand teammates on how the McLean Park pitch works.
Consequently, sticking to his game plan was vital but he will also keep in the back of his mind what worked for the other batsmen.
"There's always pressure when you're going to bat in a test so I'll be looking to do my best for the top 4 or 5 in front of me, depending on where I'm batting and if I'm batting.
"I'll probably leave a few more balls in a test match than I would in a Twenty20 but I'll stick to the same thing and try to hit the ball,'' Brownlie said.
Zimbabwe opening batsman Hamilton Masakadza said building on their bowling effort at home was on top of their agenda.
With just half the squad having played tests outside Zimbabwe, Masakadza said it was for seniors to provide the platform for the young to build on wickets here that resemble that in Harare.
"It is pretty similar to New Zealand where there's a bit of grass on the wicket and a little bit of bounce.''
Having played the Black Caps in Bulawayo late last year, Masakadza wasn't surprised to hear there would be more grass in Napier.
"We've been using that [grass] even in our preparation back home ... so it's been good for us,'' he said, adding both their new-ball merchants, Kyle Jarvis and Brian Vitori, could hit the deck with pace.
"Vitori missed out against New Zealand because of an injury. He played against Bangladesh but he's back now and both can bowl briskly.''
Masakadza had missed the injury of fast bowler Keegan Meth, who keeled over at the training after a ball hit him.
"I wasn't looking but I saw him limping off on crutches so we're waiting to hear from the phys [physiotherapist Amato Machikicho] on what's happening with that,'' he said of the bowler who caused Kiwi batsmen some problems in Gisborne at the weekend.
Zimbabwe were going to look at his ankle today before making any decisions on whether he would play.
For more articles from this region, go to Hawkes Bay Today