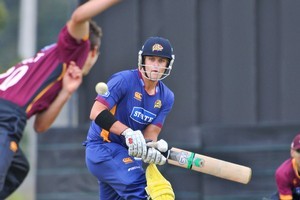 Sam Wells admits to surprise at his call-up to the New Zealand test squad and is expecting a few funny looks from his new teammates at training today.
The Otago allrounder was yesterday called into the Black Caps squad of 13 for the test against Zimbabwe in Napier starting on Thursday.
Wells, 27, met a few of his new teammates for the first time when playing for a New Zealand XI in the recent drawn three-day match against Zimbabwe in Gisborne but, such is his anonymity on the international scene, he will have to introduce himself to the remainder today during the Black Caps' first training session in Napier.
"It might be the first time a few of them had seen me," he told Radio Sport today. "I know a lot of them hadn't seen me until the Zimbabwe game. Of course, a lot of the Black Caps don't play a lot of [domestic] first-class cricket. They only come back for the HRV Cup and I haven't played a lot of that. A lot of people will be getting their first look at me. A few of them might be staring over to see what I do but hopefully it all goes well.
"I'm not very well known and I think my mum might have been the only one picking me in the side. It took a while to convince my girlfriend that I was telling the truth. A few of my mates are pretty stoked and that's probably been the most pleasing thing."
Wells, a left-handed batsman and right-arm medium pacer, has first-class batting averages in the past two seasons of 59.75 and 40.16. Overall, he has hit two first-class 100s and nine 50s in 21 games, to go with 33 wickets at 34.77.
He knew he was on the fringe of selection for the Black Caps, but added: "I guess I never knew I was as close as I was. I went to a pre-season camp at the start of the year and Wrighty [coach John Wright] had a few words and said they were looking for someone to fill that allrounder's role but I imagined to myself that I would have to put together a couple of pretty substantial seasons to be in this position."
Wells took his chances well against Zimbabwe, with a quick 65 off 85 balls in the New Zealand XI's first innings on Saturday and, while he picked up only one wicket, considers himself an allrounder rather than a batsman who bowls.
"I think I would bat around seven or eight and bowl 12-15 overs a day, that sort of a role."
It had been assumed Wright would opt for four seamers in the Zimbabwe test but Wells' selection has muddied those waters. It would still be a surprise if he plays, but Wright has made a habit of surprises lately with the selections of BJ Watling and Kruger van Wyk for the one wicketkeeping position and he is likely to wait until the morning of the test to confirm his lineup.
Wells said he had recently recovered from a knee injury and his bowling rhythm was only just returning, but he was pleased with how he was hitting the crease.
He graduated from Otago University with a degree in law and politics but has decided to put the books aside to concentrate on cricket.
He calls himself "well-rounded" given the sport isn't the only thing in his life but is determined to take his opportunity when it arises.
As for any added pressure, that's not something he is concerned about.
"I guess there might be greater expectations from the public because they will look at the scorecard and know who I am now, but I can't really worry about that sort of thing."
- APNZ