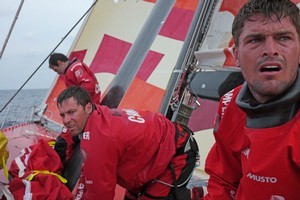 On Sunday the 22nd of January the Volvo Ocean race returned somewhat to normality with the resumption of the second stage of leg three.
The complications and logistical challenges presented by the shipping of the boats to and from the UAE was an unwelcome but necessary exercise to keep us all safe from the potential pirate attacks in the Northern Indian Ocean.
After shipping the boats from Sharjah to the restart location, the five yachts were successfully unloaded from the 'MV Happy Diamond' and we rejoined Sanya who was awaiting our arrival. For the first time in a while all six boats were set to race again.
VOLVO OCEAN RACE TRACKER

So now we are on our way, we are just over 24 hours into the race and all of the boats are in sight, we have Puma just under one mile ahead of us as we battle for the lead.
Groupama are just behind us, and the rest of the fleet not far behind them.
It still looks like a bit of a drag race to the top of Indonesia and all of the boats look fairly evenly matched so it is going to be a tight and tense race all of the way.
This is something we are well used to in this Volvo race so far.

The rest of the leg will present many challenges including unlit fishing boats, and unfortunately a lot of debris and rubbish in the water.
Once through the Malacca straight we have one of the busiest shipping lanes in the world to deal with as we make our way past Singapore before taking on the north east monsoon as we beat our way north to Sanya.

Life onboard is slowly settling into our normal routine. Four hours on...four hours off although as usual four hours off watch is often busy with sail changes as we strive to eke every ounce of boat speed out of Camper.