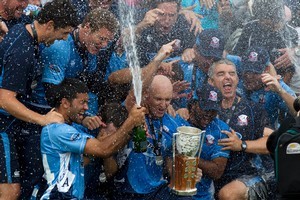 Auckland's key batsmen succeeded; Canterbury's didn't.
Boil the HRV Cup down and that was the decisive difference between the country's two best teams, as Auckland defended their HRV Cup title with an emphatic 44-run win at Colin Maiden Park yesterday.
That puts Auckland in line for a return trip to the Champions League in India later this year, and a chance to make up for a lost opportunity at their first attempt at the start of this season.
Auckland, sent in yesterday, came within a boundary of emulating their double ton in the final round-robin game between the sides on the same pitch five days earlier.
Their 196 for five, set up by openers Martin Guptill and Azhar Mahmood, proved well beyond Canterbury's grasp.
Canterbury had chased down 201 last week with a terrific batting performance. This time their key figures at the top, Rob Nicol, George Worker and Dean Brownlie, failed.
Captain Peter Fulton battled hard for a time, but Canterbury's collective failure to find the boundary between the fourth and 11th overs was simply unacceptable.
Canterbury were in free-fall before big-hitting allrounder Andrew Ellis gave them a sniff with a blazing 41 from just 17 balls.
It got to 54 runs needed from the last three overs, but Ellis' departure to the first ball of the 18th over ended that slender hope.
Auckland won because they were the better side when it really counted. They had topped the round-robin programme with seven wins and just two defeats.
They have a well-drilled outfit who know their roles and yesterday performed them impressively.
Guptill took his competition-best tally to 504 at an average of 63; import Mahmood maintained his top class form of late with a brisk 44; Anaru Kitchen, captain Gareth Hopkins - having worn a high full-toss from seamer Mitchell Claydon on his head - and allrounder Colin de Grandhomme all added their tuppence worth with 64 coming from the last five overs.
Auckland's bowlers were on the mark from the start. The onus was on Canterbury's batsmen to get the board rolling smartly.
But when Canterbury's most influential batting figure, Nicol, dragged a ball onto his stumps with an ugly swipe in the second over, perhaps feeling the need to get cracking, it plonked Canterbury on a slippery slope.
Andre Adams, Ronnie Hira, Michael Bates and Kyle Mills were all key figures in a strong collective display with the ball.
The exuberant group hug at the final dismissal spoke eloquently of what the title defence meant.
"At the death we let them get a little too many runs," Fulton said. "We didn't bowl well, didn't get the ball in the blockhole and when you're bowling to good players you'll get hurt."
There was plenty of disappointment in their dressing room, Fulton bemoaning the fact that it was "just a shame we saved our worst performance from the top order for today".
Adams is an old hand at these sorts of occasions and the veteran allrounder, now playing as an overseas import, was particularly chuffed for the younger Auckland players. "It's exciting for me and I'm loving seeing these guys grow so quickly," he said. He said the win was about "all the stuff you put in place, and the good faith you put into guys and this shows the way we're doing things is right".
"It's not just winning games by being lucky, but playing good cricket, using their heads, being calm under pressure and bowling to their fields. They are signs of guys who are maturing."
The domestic focus now reverts to the Ford Trophy one-day competition which resumes with sixth round games starting on Thursday.
SCOREBOARD, RESULTS - B4