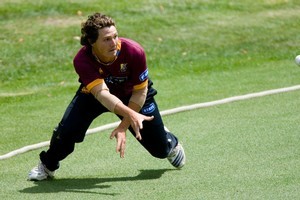 Northern Districts' cricket coach Grant Bradburn expects to have BJ Watling in his squad next summer despite the wicketkeeping conundrum he faces in the future.
Bradburn has the 32-year-old Peter McGlashan, who has been the province's long-time No 1 gloveman, alongside the potential New Zealand test keeper in the form of Watling, 26, at his disposal.
Watling appears to be New Zealand coach John Wright's answer at No 7 in the five-day lineup following last week's dumping of Reece Young, and he did his chances no harm on Saturday with an innings of 84 for a New Zealand XI against Zimbabwe.
Having two top stumpers on a provincial roster doesn't usually fit, however, and, despite rumours of Watling's possible move to Wellington to further his wicketkeeping career, Bradburn said Watling should stay put.
"I think for BJ, he's got such a wide network of family and coaching support here and I'd be very surprised if he considered a move," Bradburn told APNZ.
"We've chatted [about a speculated move to Wellington] and it's been news to him, too. So I think it's just that at this stage, it's just speculation. But we've assured both keepers we want to give both of them opportunities."
Until only a couple of weeks ago, the prospect of Watling keeping in this week's one-off test against Zimbabwe in Napier seemed a long shot.
But he was given the gloves for a couple of Twenty20 matches for Northern Districts and was named in the 12-strong New Zealand test squad alongside Central Districts' wicketkeeper-batsman Kruger van Wyk.
Watling revealed during the week his rise in the wicketkeeping pecking order for the national side had been brewing for more than a year and Bradburn backed the national selectors' call to get him involved.
"He hasn't been selected off the back of these two Twenty20 games, let's get that clear," Bradburn said. "He's always been a quality keeper, the selectors have known that, we've known that and all we've done is just given him an opportunity to keep his name forward.
"I assume they're looking for runs and, if they're looking for a quality batsman who has experience against the new ball and is likely to fashion himself in to a quality test batsman and gloveman, then I think they've got the right man."
If van Wyk was to be selected to keep wicket against Zimbabwe and the subsequent tour from South Africa, Bradburn said he envisioned McGlashan and Watling sharing the duties behind the stumps for the rest of the summer for ND.
"That's something we've always considered anyway and it's good for both of the guys to give their hands a break at times. And as we've found with Pete in the last couple of games, I think it's always been very useful for him to show the selectors that he's not just a keeper. He can field as well.
"We all know he can finish a Twenty20 or a one-day innings like no one else can [with the bat] and it has also given him the ability to show the selectors you can put him in the field too if Brendon [McCullum] needs to keep. So I think that's been a pleasing thing and we'll continue to give both the guys opportunities."
McGlashan has kept in Twenty20 and one-day games for New Zealand when McCullum has been rested or played as a specialist batsman and his last international game was on December 30, 2010.
Depending on how the national selectors pick their squads during the next two-and-a-half months, they might make Bradburn's decision of who to give the gloves to an easy one.
- APNZ