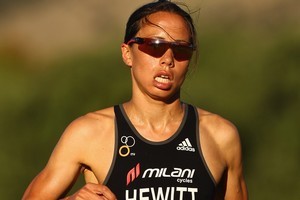 Team tactics to seek an Andrea Hewitt triathlon gold medal could dominate selection when the remainder of the New Zealand women's team is picked for the Olympics.
Hewitt is the only New Zealander (male or female) guaranteed a spot at London. A top eight finish is required by the other women contenders at the Sydney world championship series event in April to cement one of the other two spots, otherwise the decision will be at the selectors' discretion.
Kate McIlroy, by virtue of her superior world ranking (17), looks set to get one spot, while Beijing Olympian Debbie Tanner and former world under-23 bronze medallist Nicky Samuels are likely to contest the third position, although Sam Warriner could be a possible surprise.
Team tactics to help world No 2-ranked Hewitt would require a sacrifice on the part of competitors from the same country.
Tactics generally only involve the cycle leg.
A designated athlete can have the strength of their legs protected for the run by drafting off the efforts of a lead rider.
Alternatively, stronger riders might be assigned the job of hauling in a breakaway group by reaching them and slowing them down which allows the peloton to catch up - as happens in the Tour de France.
In triathlon, that can give a stronger runner a better chance.
Winning the national road racing championships this month could make Samuels the perfect foil to protect Hewitt. Understandably Samuels says she'd rather race for herself if she can finish in the top eight and therefore get selected on merit rather than discretion at Sydney.
If she's not picked on merit, she's open to the idea of racing as a support athlete.
"I could be selected as a domestique for Andrea and I could see that working well for her and New Zealand triathlon but I think making the top eight in Sydney is an achievable goal to get straight out selection. That's what is driving my training.
"Ultimately we do triathlon because we are individual athletes competing but if it [team tactics] came up, I am happy doing it - it's the Olympics and a gold medal would mean so much to our sport."
Samuels acknowledges such work can be fraught with frustration. Herald on Sunday sources said Hewitt's coach, the French triathlete Laurent Vidal, expressed disappointment at Samuels' effort to help Hewitt at the world championship series event in Budapest last year.
Samuels confirms the incident, saying expectations of a domestique's performance can vary: "We were both well behind out of the water. I tried my hardest to ride her up [the field] but [we] didn't make it.
"Andrea's coach and boyfriend Laurent had a go at me for not trying, but, boy, did I try. Sometimes it works, sometimes it doesn't.
"I often run well off a hard bike so to work hard for someone else isn't as much of a concern. That's why I have been willing to do it in other races."
Triathlon New Zealand national coach Greg Fraine says nothing will be decided on team tactics until after the Sydney race.
"The focus is on selecting three complete athletes unless we reach a point [after Sydney] where we haven't got three stand-outs.
"We need a unified group of athletes first; then we'd ask them to look at the mutual benefits of working together rather than sacrificing for one athlete."