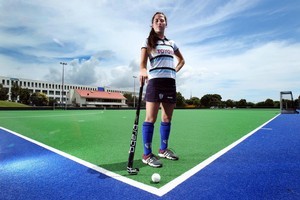 As the Black Sticks prepare to take on the world in Rosario next week, a young Argentinian player is bringing her skills to these shores.
Josefina Maratea arrived three weeks ago in Auckland and plans to stay a year. She is halfway through a psychology degree back home in Buenos Aires but says her priorities in New Zealand are simple
"Playing hockey, practising hockey, finding some work and then maybe some study," laughs the 20-year-old Maratea. "In Argentina, New Zealand was never regarded as one of the more powerful teams but we have noticed over the past few years how they have been coming up quickly."
Buenos Aires is the epicentre of Argentinian hockey, with seven divisions of premier league hockey in the capital alone. Maratea plays for top club side San Isidro, who compete in division one, playing alongside and against many members of the national team, Las Leonas.
"In Argentina if you are a boy you play football, or maybe rugby or basketball," says Maratea. "If you are a girl, really there is just hockey."
Maratea, who is primarily a sweeper or defender, also played for her province until a serious ankle injury at the age of 16. She still harbours representative ambitions but is realistic about her prospects.
"We have so many players that if you drop away, someone replaces you and it is very hard to get back. They soon forget about you but I still hope to make the highest level I can."
There are more than 30 female teams in the San Isidro club alone; the senior side train three evenings a week (at the 'only in Argentina' hours of 8.30pm-11pm) and Maratea is already wondering if she can get enough training in over here, with some Auckland clubs practising only once a week and most just twice due to limited turf allocations.
"I love training so I hope to as much as possible but I will get used to the New Zealand way," says Maratea. "Even my coach at home said I needed to relax a bit sometimes."
Like most hockey teams in Argentina, the San Isidro club also has a rugby section. Their rugby side has been national and regional champions on several occasions, beat Fiji 28-11 in 1980 and achieved a famous 22-22 draw with the touring Wallabies in 1987.
There is also a rugby link to Maratea's stay here. Her uncle, a keen rugby player, emigrated here several years ago and has since secured the sole distribution and importation right for Quilmes beer in New Zealand. Apart from being the major sponsor of both Boca Juniors and River Plate (it is seen as marketing suicide to sponsor just one, as you would alienate half your customers) they are heavily aligned with the Pumas and are planning a big push into New Zealand and Australia to coincide with the Rugby Championship.