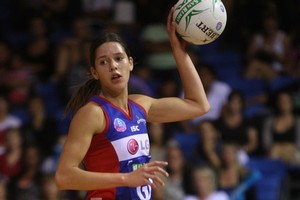 The start of the transtasman league is still three months away, but the competition for places in the Northern Mystics' starting line is already red hot.
The Mystics kicked off their pre-season training last week, with the full squad assembling in Auckland for the first time following the arrival of new recruits English international Jade Clarke and former Tactix defender Charlotte Kight.
The pair are the only new faces to the side which finished runner-up in last year's competition, while Portia Woodman has been elevated to a fulltime role in the squad after providing injury cover last season.
With Woodman and Clarke considered "defensive" midcourters and Kight also hoping to establish herself as a wing defence, coach Debbie Fuller is faced with an overload of talent in the defensive end.
The Auckland side's defensive ranks were already extremely healthy, with Silver Ferns Anna Scarlett and Kayla Cullen, with New Zealand accelerant group players Jess Moulds and Rachel Rasmussen, providing Fuller with some strong combinations.
While Fuller certainly won't be complaining about her deep defensive resources, you've got to wonder how long the players will be happy with the arrangement.
Kight was the last player signed to the Mystics roster this year after taking some time to weigh up her options.
Over the past 18 months Kight went from being on the brink of Silver Ferns selection to being dropped from the New Zealand squad altogether.
The selectors advised Kight that if she was to win her place back in the national team she needed to play further up the court, prompting her to move away from the Tactix where she played predominantly at goal-keep.
But many have questioned the wisdom of her decision to go with the Mystics, who were already well-catered for at wing defence and goal defence.
However Kight, who has two papers left on her law degree, argues the competitive environment at the Mystics is the best place for her.
"I'm certainly not afraid of the competition. It's great to be pushed so hard in training, I know I'm going to have to work really hard for court time and I think that's really healthy," she said.
Likewise Clarke isn't perturbed by the prospect of having to fight for court-time.
The hard-working English midcourter said it made for a more intense training environment.
"The intensity over here is really similar to the intensity we have with my national squad so it is really good for my development," she said.
Clarke has the added advantage of being able to move into centre, which will likely result in captain Temepara George splitting her time between the centre and wing attack bibs.