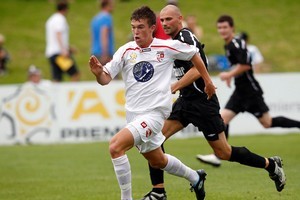 Tim Payne turned 18 earlier this month and will soon celebrate by signing a professional contract at Blackburn Rovers, but he has his eyes on a bigger prize - playing in the English Premier League this season.
The versatile striker has been training with Blackburn's reserves while the formalities in his two-year contract are concluded and said he should be able to kick off his career in earnest next week. After that, there's one thing on Payne's mind for the remainder of the season.
"I really want to kick on and push as much as possible to try and get that first team place,'' he said. "But if that doesn't come now I just have to keep trying. There might be a few setbacks but I have to keep going and keep pushing myself to try and get there.''
If the idea of an 18-year-old Kiwi kid playing in the English Premier League seems an extraordinary one, that's because Payne is an extraordinary talent. His mentor, former All Whites and Leeds United defender Danny Hay, said last year Payne could be running out at Ewood Park sooner rather than later.
With the Lancashire club, also home to All Whites captain Ryan Nelsen, locked firmly in a relegation battle, the spark that secures their survival may come from an unlikely source. If he is to be that source, Payne said he would be ready.
"I don't feel any pressure at all. I just do what I can and what I can control and go from there.''
Payne's 18th birthday was "just another usual day'' at work, although most teenagers' usual days at work probably don't involve rubbing shoulders with multimillionaire athletes. The Aucklander admitted to having a few moments when he had to pinch himself but said he was starting to feel like he belonged.
"There are a few times when you walk out to training and you think it's the best job in the world, you're doing what you love. It's an awesome feeling.
"I love it, every day you get out there with the ball. But it's a high quality - you have to be switched on every time you train. Most of them are really good lads and it definitely helps to settle in.''
Payne's currently living with other younger players in lodgings at Blackburn's training facility. In addition to cooking and cleaning - the bane of any teenage boy's existence _ being taken care of, Payne said there was one other thing he liked about the arrangement.
"The banter with the lads and taking the piss out of each other - I love it. You don't get the banter like that in any other degrees of work.''
With all rosy off the pitch, Payne is free to concentrate on his football as he strives to reach his lofty goal.
"As the cliche says, the hard work starts now. I'm just really looking forward to the rest of the year and really kicking on. I can't wait.''
- APNZ