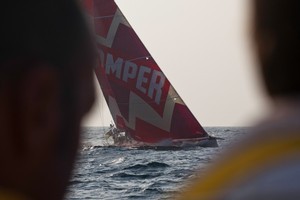 As the Volvo Ocean Race fleet heads to China, about 160 containers will be shipped out of Abu Dhabi this week bound for Auckland in preparation for the leg four stopover.
A "mini event city" that covers 6000sq m will be set up along Auckland's waterfront during the March stopover and getting each team's equipment here is a major logistical challenge for organisers.
Two duplicate sets of containers are shipped around the world during the nine-month race, leapfrogging each other to the stopover ports.
Now the second stopover in Abu Dhabi is complete, the container cities have been packed up and prepared for shipping to Auckland, while the other load of containers makes its way from Cape Town to Sanya, in China.
The containers are due to arrive in Auckland about February 26, leaving organisers with a tight turnaround to set up before the arrival of the fleet, expected to be about March 8.
Auckland stopover port director Tom Mayo said MAF and Customs officials were in Abu Dhabi inspecting the containers to avoid any hold-ups when the ship arrived in New Zealand.
"So many things can change on you weatherwise that can affect shipping dates that we need to get as much time up our sleeves as possible," said Mayo.
The Ports of Auckland strike also cast a shadow, with international shipping company Maersk moving its service to Tauranga after the industrial unrest, but Mayo said this had not resulted in any significant delays.
Auckland has a proud history linked with the global race, witnessing many dramatic finishes. But the city has not hosted a stopover in a decade and over that time the race has faded from the public's consciousness.
Although Mayo admits it will be tough to replicate the feverish interest of the late 80s and early 90s, when ocean racing legends Sir Peter Blake and Grant Dalton captured the public's imagination in the race, he is confident the event is steadily gaining traction. But much of the arrival's success will still rest on Emirates Team New Zealand leading the fleet into Auckland.
"I think it captures a wider market if Team New Zealand are in with a sniff of the lead. Everyone knows they are in second place overall, so having them at the front of the fleet or close to the front heading into Auckland would certainly add to the interest."
The stopover runs to March 18.
The fleet is in transit to a safe-haven port in the Indian Ocean, where racing will resume from January 23.