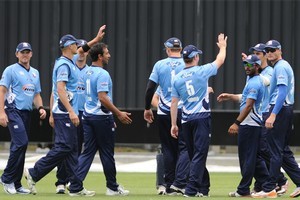 Auckland turned to a familiar face as they bolster their stocks in anticipation of a place in the Champions League.
Lou Vincent has rocked back into his old home town, taking leave from his role as batting coach for Hong Kong and took his place in the Auckland side that thumped Otago by eight wickets with 14 balls to spare yesterday.
It was another Martin Guptill inspired run chase, as he ended unbeaten on 68 off 47 balls. Auckland's seventh win in nine matches (one no result) has booked a home final against Canterbury, who they also play in a meaningless round-robin match at Colin Maiden Park tomorrow.
Vincent's deal was stitched up late last week and things moved quickly once Andre Adams, another homegrown "import", went down with injury.
Vincent was originally set to fly in today to join the team for tomorrow's match, but a late change of plans saw him join the team in Dunedin.
He roamed the outfield virtually incognito, with few chances to express himself. Opening the batting, however, he went through his portfolio of clean, conventional hitting and the odd trick shot in a breezy 31 off 17 balls before being trapped in front while trying to hoick Nick Beard across the line.
The 33-year-old has become a cricketing nomad of late, plying his trade for Lancashire in 2008, Northamptonshire in 2010 and Sussex in 2011. He also had a stint with Zimbabwe domestic side Mid West Rhinos in their T20 competition and is coach-for-hire in Hong Kong.
He has recently appeared on a list of international players available for auction in the newly formed Bangladesh T20, along with Scott Styris, Adams and Hamish Marshall. Vincent's base price is US$50,000 ($63,000).
One man who won't be in Bangladesh is Guptill. He's made it clear he will spurn T20 riches this winter in the noble pursuit of refining his technique in the longer form of the game.
There's no question he would represent excellent value for an Indian Premier League franchise.
He is on a tear with the bat, having peeled off 416 runs at a touch over 83. He also took a stunning catch to dismiss former teammate James Neesham.
With Guptill in this form and the most balanced bowling attack in the competition, even without Adams, Auckland are tough to beat, but even so they were gifted this win by clueless Otago batting tactics.
It was plain sailing early, with Brendon McCullum (35), Hamish Rutherford (24) and veteran Craig Cumming (44) experiencing few issues. At 98-1 after 12 overs they were primed for a big total but a tight spell by Roneel Hira and the decision to send accumulators to the crease rather than hitters backfired badly.
Apart from the aforementioned batsmen only two other Otago batsmen managed to find the boundary and 150-8 was a sorry target - and a target that provided Guptill, Vincent and Azhar Mahmood (51 from 39 balls) with no headaches.