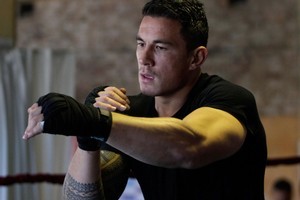 Sonny Bill Williams feels a little aggrieved by the New Zealand Police.
"It's pretty disappointing the cops got to Richard before I could," the All Blacks utility said jokingly in reference to the fact his next opponent due to fight him in the ring on February 8, Richard Tutaki, was arrested by police for various charges including possession of methamphetamine.
It's probably just as well they did. Although Williams' people were trying to tell him Tutaki was "training the house down", other reports suggested Tutaki was spending too much time in his house as he trained very little or not at all.
Good boxers normally work their way up the ranks by starting out slowly and taking fights they will win but Williams is no ordinary boxer. He possesses some boxing talent but he's also an All Black, a former league sensation and a brand. People will watch him fight regardless of who it's against and TV are prepared to invest in him because they know they will get a return.
It's why many expect and hope he gets in the ring with someone decent and Tutaki didn't sound like he would turn up in decent shape.
Like most associated with the fight, including Williams' manager Khoder Nasser, broadcasters Sky TV and the New Zealand Professional Boxing Association, Williams had no idea the fight was in jeopardy until the New Zealand Herald alerted them on Friday.
"I was gutted," he said. "It's probably the biggest setback of my sporting career so far. I have trained so hard the last three weeks, all eyes on Richard, so that was pretty gutting.
"I didn't want to speak to anyone for at least half an hour, an hour, because I didn't think I would be able to fight for the [vacant New Zealand heavyweight title] belt but now there's a bit of light at the end of the tunnel."
Talks are now under way for Williams to fight another opponent in Hamilton on February 8, with either Joey Wilson or Clarence Tillman the most likely candidates. Both have decent records and, according to Williams, ranked in the top three in the country.
Tillman, who was born in the US, has 11 wins, eight losses and two draws in his professional career and stepped into the ring eight times last year. Wilson is 32 and has eight wins, two defeats - including one to Tutaki in 2006 - and one draw.
"Clarence is preparing for another fight against Solomon Haumono in late February or early March so he's in tip-top shape," Williams said. "Joey, I'm not sure.
"From my last fight to this is definitely a step up. I said to my people I didn't want to have another fight like that and wanted to step it up and this is definitely a step up. Hopefully I haven't bitten off more than I can chew."
Williams has been on a heavy boxing diet in Sydney over the past month under the watch of Tony Mundine, father of Anthony Mundine. He's also being given special treatment by the Chiefs ahead of his next fight and last week was told to sit out a conditioning session because of what he would be doing later that day.
"Rugby by day and boxing by night," he explained.
Williams has provision in his contract with the NZRU for three fights this year and speculation has been swirling recently he's on the verge of switching back to league in 2013 but the 26-year-old insisted rugby was his main focus.
"It's in my contract to have three [fight this year] but situations change," he said. "I just have to adapt and see how body feels. If I feel it's going to take away from my rugby, then I won't fight during the year. If I feel it's going to add to my rugby, I will.
"I'm happy where I am right now. I'm loving rugby. It's a challenge. I have more things I want to accomplish. I just want to keep playing well and, at the end of the day, you're only necessary if you're useful so if I'm not playing well no one is going to want me. That's what I have to keep doing and that's why my focus is on after February 8, playing well for the Chiefs."

- APNZ