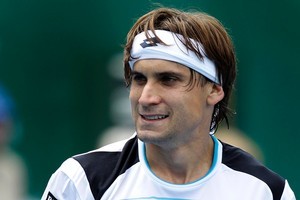 It's almost expected of the courtside announcer to ask the latest champion whether he will return to defend his title the following year and David Ferrer always obliges as he did on Saturday.
In fact, the world No 5 went further than that and said, "I hope I will come back here every year of my life".
It makes sense for Ferrer to play in the Heineken Open and on Saturday he picked up his third title when he beat Olivier Rochus 6-3 6-4 in 94 minutes. He joined Onny Parun as a three-time winner and is behind only the great Roy Emerson who won four titles in the 1960s.
Not only is Stanley St a venue he knows well - he's played in the tournament seven times - but it's also one that works for him.
Assuming he maintains his ranking inside the world's top 25, he is virtually assured a first-round bye into the last 16. From there, he expects at least three matches, perhaps four, against middling opposition which is a perfect buildup for the Australian Open.
He can arrive in Melbourne full of confidence and, as he has done three times in the last six years, with another title to his credit. Last year, after winning in Auckland, he went on to the Australian Open semifinals.
The Heineken Open attracted a decent field this year but none were in Ferrer's class. Nicolas Almagro is ranked an impressive 10 in the world but all of his 10 titles have come on clay and he's never even played in a final on a surface other than dirt.
Likewise, the likes of Fernando Verdasco, Juan-Ignacio and Philipp Kohlschreiber all boast good games and good records but nothing close to Ferrer.
The diminutive Spaniard knows he's not in the same class as the Big Four (Djokovic, Nadal, Federer and Murray) but he is the best of the rest. He can beat those guys on occasion, like when he beat Nadal at last year's Australian Open and Djokovic and Murray at the year-end tournament in London, but what sets him out is that he rarely loses to players he shouldn't.
Amazingly, he's now won 52 of his last 53 matches against players ranked outside the top 50. There's a view that any player in the top 100 can beat any other on their day but Ferrer doesn't let them have their day against him.
He was rarely troubled against Rochus on Saturday. There were a few anxious moments, when he faced a break point serving for the set when rain intervened for the second time (he rattled off the next three points when they returned to win the set) and then again when he was broken in the second.
Rochus tried everything in his large and varied arsenal but Ferrer always had the answer. He is like a terrier on the court and counterpunched when Rochus punched.
When the Rochus thought he had a chance, Ferrer snuffed it out. When Rochus looked vulnerable, Ferrer attacked.
"I've never won a tournament three times," the 29-year-old said. "I've said all week I like to play here but this win is more special than the other ones. For me, every year it's more difficult to win a tournament because each year I get older.
"I am very confident. I won the tournament so it's perfect. Of course I'm a little tired, but I prefer to win here and go to Australia tired."
And that's why he will be back.
- APNZ