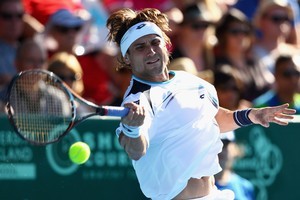 It was a case of David becomes Goliath. David Ferrer claimed a rare treble yesterday, becoming the first player since Onny Parun in 1976 to claim three tennis titles in Auckland.
His Heineken open final was a clinical display from Ferrer who won 6-3 6-4 in a rain-interrupted match. Oliver Rochus fought hard and played his part in a high quality encounter, taking a brief lead in the second, set but he was always under pressure, especially on serve.
"Of course I will come back," a jubilant Ferrer said after his victory. "I hope I will come back here every year of my life. I think this is more special than the [other two] because every year it is harder as I am getting older."
With good reason as Ferrer, who Roger Federer once described as the best returner in the game, has now won 25 per cent of his total career titles in the Queen City.
His celebrations will be muted ("Just a quiet dinner and one Heineken" with his coach before an early flight to Melbourne today - where Ferrer will approach his Australian Open campaign with confidence high. His beginning to the 2012 season has been stellar - he played in the Mubadala World Tennis Championship Abu Dhabi, beating Jo-Wilfried Tsonga and world No2 Rafael Nadal to reach his third final in that tournament, although he then lost lost to World No1 Novak Djokovic. In Auckland, he beat Lukas Rosol, Alejandro Falla and high-powered compatriot Fernando Verdasco on the way to the final in which he overpowered the 68th-ranked Rochus with his powerful serve and forehand.
Ferrer felt the key was his serve, particularly impressive at the back end of both sets, and is the area of his biggest improvement over the past two years.
With the constant rain this week the Heineken Open had been more like the 'Heineken closed' but thankfully the delays didn't reign yesterday. The final was interrupted twice - once crucially with Ferrer facing a break point late in the first set - and eventually concluded after 93 minutes on court.
In his seventh appearance in Auckland, Ferrer wasn't quite as imperious as last year but the result was never in doubt as the Spaniard won his fifth consecutive match over the unseeded Rochus. Rochus, with his short arm jab style serve, was always under pressure from the line, looking for just his sixth win over a top five player in a 13-year professional career.
It is easy to underestimate just what the 29-year-old Ferrer has achieved, until you take a glance back through the annals of Spanish tennis history. Before Rafa Nadal, Iberian players just didn't win on hard courts. Brought up on the dusty red clay, they were about as comfortable on plexipave as most New Zealanders on skis.
Nadal changed that and has racked up 10 titles on hard court (including indoor). But Ferrer, who would be a legend from Madrid to Mallorca if it wasn't for Rafa's immense shadow, now owns five titles from eight finals on hardcourt. He has rare speed across the court, is a fitness fanatic and from that comes the ability to wear down his opponents, as they are always made to play another shot.
The man from Valencia is also mega-consistent; unforced errors are as rare as photos of Phil Goff on Labour billboards. Like Michael Chang, his greatest weapon is probably his court coverage but the serve, backhand and forehand are all more than solid.
The 1.75m Ferrer can beat the best; No1 Nadal at last year's Australian Open, Novak Djokovic and Andy Murray in London and is also ruthless against everyone else. With yesterday's win, he has now won 52 of his last 53 matches against players ranked outside the top 50.
Rochus, who had struggled with a cold all week, started nervously. A double fault in his first service game gave Ferrer the break and advantage in the first set, which he never relinquished. Faced with fight or flight, Rochus fought. One rally lasted over 25 strokes as two of the best retrievers in the sport refused to yield. The Belgian improved over the course of the first set, and with Ferrer serving for the set at 5-3, Rochus saved three set points. To the delight of the capacity crowd, Rochus then forced his first break point after outduelling the Spaniard from the baseline.
Then came the pivotal point of the match. For the second time the rain came, just as Ferrer was preparing to serve. He had time but showed the gamesmanship and experience that comes from well over 600 ATP matches, delaying long enough before the umpire instructed the players to halt play.
"It was important," agreed Ferrer. "I had time to relax and think about my game and was able to come back more aggressive. At that time he was confident but [he] came back more cold."
Upon return, after 30 minutes, Ferrer wrapped up the first set on his fifth set point. The quality lifted in the second set, with Rochus breaking for a 3-2 lead; quite an achievement, when you consider Fernando Verdasco didn't even force one break point in Friday's semifinal. Ferrer broke back soon after, with a Nadal-esque reflex slinging forehand from a Rochus smash. It seemed to fire up the top seed, though Rochus then produced the shot of the tournament, a clean winner at full stretch from almost in the grandstand that whizzed past a stunned Ferrer at the net.
Despite the resistance, Ferrer held on to serve out the match after 92 minutes on the court and was a picture of jubilation, rolling onto the court in celebration and lying there for several seconds.
With good reason, apart from Parun (1973, 1975-6) and the legendary Roy Emerson (1960, 1965-67) he is the only other player to win three times in Auckland.
There were dark clouds on the horizon as the final finished, but the future is as bright as ever for the man known as 'the wall' in Spain.