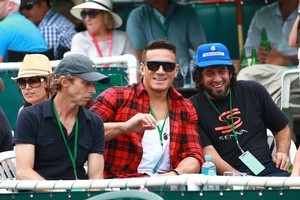 The ugly disruption to the Heineken Open semifinal between former champion Philipp Kohlschreiber and two-time finalist Olivier Rochus is not likely to prompt changes to the tournament's traditional convivial atmosphere.
However, questions remain over the behaviour of some fans and the balance between corporate entertainment and etiquette.
On Friday afternoon, reports told of Kohlschreiber bickering with patrons in the Carter's box courtside after miscueing a shot that took Rochus to a match point he eventually won. Kohlschreiber, a regular to Auckland, stormed off court without acknowledging the crowd. Some reports claimed Kohlschrieber yelled: "Stop talking on your f***ing phone" - making it seem that phone use had outraged the German.
However, other eyewitness reports suggested that drink had played a role to the extent that the box patron or patrons were interacting with the player and nearby members of the coaches' box. Tennis New Zealand chief executive Steve Johns visited the Carter's box shortly afterwards to remind them of tennis etiquette.
Former All Black centre Joe Stanley then escorted a man from the box outside briefly before the man returned. Stanley is director of the event's corporate hospitality organisers, coneystanleyevents, with former Silver Ferns netball representative Julie Coney.
In other etiquette incidents, the tournament was halted briefly as noise levels from one of the large corporate areas grew too loud and attempts were made to quell the noise as guests appeared set on entertainment rather than the tennis. In another, a blissfully unaware woman halted action by walking through the corporate area at the wrong time, halting a match. Patrons yelled at her but she remained steadfastly ignorant of the hold-up she was causing. Later, with noise levels still high, some fans yelled: "Go home, go home" to noisy corporates.
Auckland is one of the few international venues which allows patrons to eat and drink while watching matches courtside but Coney says they're not intending to make any drastic changes in response to a rare incident.
"I've been doing this over 20 years and this problem doesn't happen often. I think the corporates generally understand. You can't control everybody. We try, but often it's the guest, not the boxholder, at fault. It puts the corporate in an embarrassing situation because they are an integral part of this event. It's a fine line because we want people to enjoy themselves.
"I can't see anything changing too much. Normal tennis etiquette applies. That means no cell phones and generally respecting the players so no movement between points and keeping conversations to a minimum during games. The menus include information about it.
"It is difficult because it is a unique venue which has hospitality so close to the playing action. Most other stadia have it at the rear so you can get away with more chatter but it is an entertainment opportunity. You have to allow people to talk and enjoy the tennis but pay respect at the same time. If the procedure is not adhered to we have a chat about toning it down."
Asked about distractions from the crowd, tournament winner David Ferrer said: "No, this is a show. We play for the show, it is one of the best tournaments. It is almost always full and the people enjoy their tennis."
Heineken marketing manager Luke Rive says fans need to maintain respect for players: "We want to make sure all fans have a fantastic experience. We like to see people enjoying themselves but they need to be aware of the environment and respectful of the players and the tournament."
The doubles winners, Austrians Oliver Marach and Alexander Peya, welcome crowd interaction: "You get used to it," Marach says. "In Davis Cup it's worse because people scream indoors and sometimes there are nasty comments but you get used to it. Other sports deal with it - like at the free throw line in basketball - and tennis should too. Sometimes it's irritating, especially when you lose a point but that's sport.
"There aren't many tournaments like this. Queens in London is pretty much the same and I like that type of atmosphere. I prefer people being around the court."
"It's entertainment," Peya added. "I don't hear it; I think those rules should be looser anyway. I'd rather people stayed and ate next to you rather than leaving every hour or after every set."
Tournament director Richard Palmer says such glitches happen worldwide: "I've heard it often enough at Wimbledon. If it happens half a dozen times in the whole week; it's not rampant."