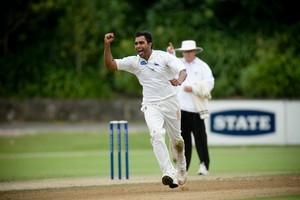 Daniel Vettori's test spin bowling successor remains a mystery but, if further injury is to strike the 107-test veteran this summer, Central Districts leg-spinner Tarun Nethula shapes as the most logical replacement.
Remarkably New Zealand has used just five other specialist spinners during Vettori's almost 15-year test tenure - and their appearances were either to complement Vettori or to stand in while he recovered from injury. His eventual retirement from tests will leave a gap but, with talk he may return for one-dayers in 2015 at the home World Cup, a permanent replacement seems a way off.
Reinforcing that theory is Vettori's renowned drive towards achieving statistical goals. At his current test wicket-taking pace of 3.3 wickets per test he would pass Sir Richard Hadlee's 431-wicket mark during the tour by the West Indies in 2013-14. With 4351 test runs and 355 wickets he is also fast closing on Indian all-rounder Kapil Dev's unique territory as the only test cricketer to score more than 5000 runs and take more than 400 wickets.
However, Vettori's injury blips and the subsequent lack of back-up spinners remain problems.
Nethula (28), who moved from Auckland to CD last season has shone in the first-class game this season. He has taken 16 wickets at an average of 19.62 with a supple wrist capable of generating plenty of top and side spin. He leaves the impression of putting more revolutions on the ball than his nearest rival, Canterbury's Todd Astle (25). That gives Nethula more of a chance to generate extra bounce and purchase and consequently wickets although his past record has left him vulnerable to inconsistency.
Still, Shane Warne was inconsistent when he started. Astle by contrast had a fine 2010-11 Plunket Shield which saw him narrowly miss one of the 20 national contracts. He took 37 wickets at 29.08 to be second behind Otago pace bowler Neil Wagner on the national averages. He has had nowhere near the same success this season and may have been overtaken on the test selection ladder.
Jeetan Patel (31) could be used as an instant standby for Vettori based on pedigree, but his lack of wickets and concession of runs against Zimbabwe in November may have cost him future chances. Nathan McCullum (31) and Luke Woodcock (29) are still seen as purely limited overs bowlers if statistical evidence is used as a basis.
Former off-spinner Paul Wiseman, who started his 25-test career after Vettori in 1998 and finished in 2005, says spinners continue to lack encouragement in New Zealand. He says part of that problem is the 76-day gap between the two segments of first-class cricket this summer.
"I'd like to see our spinners bowling more [in the longer form] but there's no further four-day cricket until February. The development of pitches more conducive to spin would also help. They don't have to be Bunsens [Bunsen burners - Cockney rhyming slang for raging turners] but if they were reasonable, captains might have more confidence to back their spinners."
Wiseman - a national under-19 co-coach who spends plenty of time in the nursery of the first-class game - does have another solution: "New Zealand spinners have generally found it hard to take wickets in test cricket and it's a big call to develop someone in a test, against Zimbabwe for instance. I'd like to see our top spinners go to India to bowl as many overs as possible. Another idea would be to get young bowlers to travel with the Black Caps to the sub-continent and bowl in the nets for hours so they know what is expected of them and get opportunities to learn."
New Zealand Cricket selection manager Kim Littlejohn says Wiseman's solution is already being considered.
"We'll be looking to place them in sub-continent academies over New Zealand winters for a fortnight to a month, probably from next year. The idea would be to get them experience and toughen them up in the conditions without the expense of too many five-star hotels. We're intending to chat with a few Indian provincial associations about it. The English are already doing it and look at how well their test and first-class game is going at the moment."
Littlejohn says since his appointment in September he has worked on analysing gaps in the system. A spin succession plan is the biggest problem.
"Nethula and Astle would certainly be considered [for tests] from the current first-class scene. McCullum and Woodcock are [deemed] specialised short format cricketers for now, but that's not to say they couldn't adapt. There is not a lot of talent out there, particularly in the wrist spinning department. However, spinners are notorious late developers.
"They're often not ripping the ball when they're 21 or so. It's more in their mid-to-late 20s that they fully develop and get a handle on their craft. We have a group of about eight we're monitoring at the moment including [Auckland leg-spinner] Ish Sodhi, [Northern Districts left-arm orthodox] Mitchell Santner and [Canterbury left-arm orthodox] Theo van Woerkom."