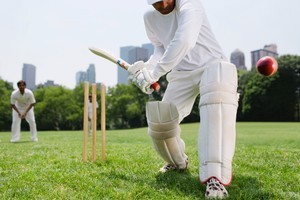 They say money is the root of all evil. This may be true or not but what is for sure is that money has rooted defensive techniques.
The lure of the T20 dollar has reduced great players' defensive techniques to tatters and being able to stay at the crease is no longer the cornerstone that provides the foundation that younger players build their game around.
When you watch a player nicknamed 'The Wall' because of his impenetrable defence push and prod at balls that would not threaten an extra set of stumps, you can only shake your head and ask what has happened.
In Australia right now, Rahul Dravid is only surviving through his grit and determination, it's taken Gautam Gambhir half the series to find any sort of shape to his defence and is only surviving early in his innings through luck, Sachin Tendulkar is still great but appears to have lost his patience and VVS Laxman has had no idea.
As for New Zealand's test top order, they all have their own ongoing battles with what to play and what not to play and also how to move their feet to produce solid, controlled play.
It doesn't surprise me because during the formative stages of the Indian Premier League, it appeared that there was a lot of pressure on India's batting superstars to make a decent fist of T20 and be a meaningful part of the circus and, when you come from New Zealand, a cricketing financial 'have-not', then who can blame you for focusing on expanding your game to the max?
Batting was once about finding a way to remain at the crease, minimising risk, and accumulating runs as a result. Great attack sprung from a foundation of defence. That really should not have changed for test cricket and I'd imagine that is the intent of most batsmen when they take the field in their whites.
One of batting's great basics is to have a still head and your dominant eye in line with the point of delivery and off-stump. This is how you give yourself the best chance to judge what is hitting the stumps and what is not. Before you say, 'but what about David Warner', let me explain; David Warner is a freak but a freak built around very solid technical basics. It would appear to me that a basic of T20 play is to move all over the place with scant regard for off-stump. In test cricket, if you decide you need to play the ball you get in behind it. In T20 it appears more valuable to get either side of it.
I like T20 and like seeing some outrageously good stroke play but I also like watching quality test batting and have not seen enough of it from my own team and, apart from Tendulkar, the Indians in Australia have been a real letdown.
As we head from domestic T20 to our first home test, I hope our batsmen will pay more than lip service to the basics because, just like any skill, basics need to be trained to be maintained and once the basics are lost, consistency is nothing more than a dream.