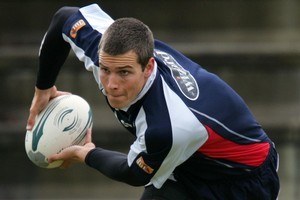 Former Blues halfback Grayson Hart believes Australia's New South Wales Waratahs have given him the perfect platform to re-launch a rugby career which "stagnated" at the Blues.
The 23-year-old former Auckland and North Harbour No9 was advised by his uncle, and former All Blacks coach John Hart, to move across the pond in a bid to establish himself in Super Rugby following three unsettled years at the Blues.
Kaitaia-born Hart made his Auckland debut as a teenager in the 2007 Air New Zealand Cup as a 19-year-old when he made 13 appearances in a side which remained unbeaten all season as it claimed both the Air New Zealand Cup and reclaimed the Ranfurly Shield from Canterbury. After playing his part in the New Zealand under-20 inaugural International Rugby Board (IRB) junior world championship triumph in 2008, Hart went on to play seven Super 14 matches for the Blues in 2009 before falling out of favour.
Reflecting on his failure to make the cut in New Zealand, Hart blames himself more than anyone else: "I played a few Super 14 games in 2009 but at the same time, I had only just turned 20, and took it all too seriously," he says.
'There is a big depth of talent in New Zealand which meant I didn't always get picked, so for the past two years I stagnated. Auckland signed me in the first year after finishing school but my career got stuck when it should have progressed.
"I got frustrated because of the limited opportunities and desperately wanted to establish myself in Super Rugby. Having been in a tough professional environment for so long, I was also training more than actually playing, so I took training for granted. As a half-back you want to be playing regularly and the Waratahs have given me the opportunity to do that."
But Hart, who signed a one-year deal for the 2012 Super 15 season, faces tough competition for a place in the 'Tahs starting line-up ahead of first choices Sarel Pretorius and Brendan McKibbon. Despite the challenges, Hart is confident of getting a fair go in his bid to secure a contract extension.
"I'm enjoying my rugby a lot more now," Hart says. "I want to achieve the most I can achieve as a professional player and for me that means securing my future at the Waratahs and playing for the All Blacks - which is what every kid in New Zealand dreams about doing.
"It won't be easy because I'm competing with two other world-class players in Sarel and Brendan for the same halfback spot, but I won't leave any stone unturned in trying to make it happen. I'm still learning about my own game but I'm in the right environment now to take my rugby to the next level."
Having analysed Australian rugby, Hart identifies a lack of depth at junior level compared with the under-age scene in New Zealand.
"Australia doesn't have the same depth of talent because of competition from other sports," Hart says. "Club players in Sydney are not full-time professionals whereas in New Zealand we've got provincial rugby (NPC) which makes the transition to Super Rugby a lot easier because it's not such a big jump in standard. But the standard of Australia's Super Rugby teams is definitely on a par with their counterparts in New Zealand."
He adds: "I've enjoyed training with my Waratahs team-mates, they are tough sessions but all of the guys support each other and it's a fun environment to be in."
Hart's only complaint is Sydney's unseasonably wet summer - something which visited him again in Auckland for his trip home to see family over Christmas and New Year.