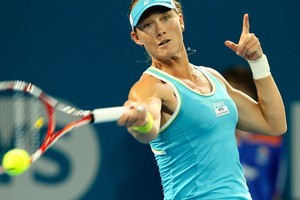 Down but not out, Samantha Stosur is refusing to hit the panic button in her desperate - and very public - quest to break the 34-year local title drought at the 100th Australian Open starting on Monday.
Stosur cut the most dejected of figures after her first-round demise at the Sydney International as the realisation she was letting herself down - as much as her legion of home fans - began to sink in.
"It's just like a bombshell hits you," Stosur said.
But as the pressure on the 27-year-old to deliver intensified, the defiant US Open champion vowed to reprise her New York state of mind for the Melbourne Park major.
As the saying goes: if you can make it there, you can make it anywhere.
"Going through all those experiences in New York and throughout the year and over the years that I've played tennis is absolute key for me handling it," Stosur said.
Her premature exits in Sydney and Brisbane continued her sorry run of outs in Australian lead-up events since her surge to grand slam prominence as a French Open semifinalist in 2009.
Team Stosur, though, are rallying behind their dispirited charge, reminding the sixth seed of her forays to the second week in years past despite similarly forgettable Open lead-ups.
"I had two pretty disappointing tournaments, but I've also had that in previous years and got to Melbourne and played better and handled it better," Stosur said.
This year's Open celebrates countless milestones.
Apart from being the historic 100th contested, the tournament marks 25 years at Melbourne Park, the 40th anniversary of Ken Rosewall becoming, at 37, the oldest men's champion in history, and 50 years since Rod Laver embarked on his first mystical calendar-year grand slam sweep.
It could also be lion-hearted Lleyton Hewitt's Open swansong.
Despite his low ranking of No182 in the world, rest assured Australia's court warrior will rip and tear as hard in his 16th Open as in his first as a 15-year-old qualifier back in 1997.
"Out of all the unseeded guys that guys could draw," said Hewitt, "I'd like to think that I'd probably be tougher than most of the others, especially over five sets."
Let the fight begin.
- AAP