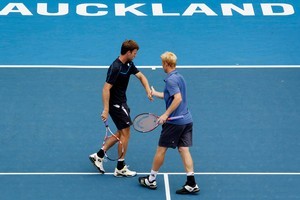 There have been more UFO sightings above Auckland Domain than New Zealand wins on centre court in recent years, so there was reason to celebrate Michael Venus and Dan King-Turner's progress to the semifinals yesterday.
They beat the Mexican-German duo of Santiago Gonzalez and Christopher Kas before a packed Stanley St crowd, in marked contrast to Wednesday night when they finished at silly o'clock in front of about seven people.
Their 7-5, 7-6 (5) victory was greeted rapturously, a nice feeling for a duo who have never won a singles main draw match here.
"To make the semifinals of an ATP event is pretty awesome. It's my first time, Michael and I haven't played together very often and we're playing pretty well, so it's all pretty exciting."
Marcus Daniell won the doubles two years ago, but he was playing with a Romanian partner, so there was something a bit special about King-Turner and Venus' run.
"We served really, really well today and took them by surprise," said King-Turner.
"It was really windy down there ... it was tough to return today," Venus said.
The Kiwi duo found themselves 6-2 up in the second set tiebreak before nerves set in and their opponents were gifted a way back to 6-5.
"I was a little bit upset I served a double fault but you've got to move on. Dan had been serving well so I was confident he was going to hit a good serve - and he did."
The blustery conditions and the shock result obviously played havoc with Dominik Hrbaty's equilibrium. The former two-time champion has brought a new dimension to commentary, which included court-mopping duty on Thursday night.
Yesterday he was meant to be in the comments chair for the first semifinal between Olivier Rochus and Philipp Kohlschreiber, but went walkabout and was not found until deep in to the first set.