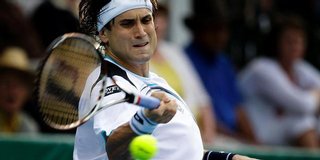 David Ferrer and Olivier Rochus will make a stand for the little guy in tomorrow's Heineken Open tennis final in Auckland.
The pair are two of the most diminutive players on the ATP Tour, and Rochus is unofficially the smallest at 1.68m and 64kg, in a game becoming increasingly played by tall, big-hitting beasts.
Ferrer's path to tomorrow's final is not unexpected, considering he's defending champion and world No 5. Today he dispatched Alejandro Falla 6-4 4-6 6-3 in his morning quarter-final and then fellow Spaniard and third seed Fernando Verdasco 6-3 6-4.
Rochus' route, however, is wholly unexpected even if he has already played in a Heineken Open final (2005, when he was beaten by Fernando Gonzalez).
The Belgian has won through on the back of guts, determination and an intimate knowledge of his game, and today he beat eighth seed and 2008 champion Philipp Kohlschreiber 6-7 6-1 6-4 in two hours 29 minutes.
It ended in controversial circumstances as Kohlschreiber was on the wrong end of two disputed line calls and then remonstrated with a member of the public sitting courtside who distracted the German enough to frame a ball.
The offending woman scurried away in embarrassment and was later evicted along with her inebriated friends. Kohlschreiber scurried from the court a point later in defeat but not after throwing his sweatband in disgust at the lady's direction.
It was that kind of day for Kohlschreiber, who made no attempt to mask his frustration throughout the match. He slammed a number of balls into the court in disgust and even hit one onto the roof of the Robinson Stand.
The wind was clearly affecting him but so was Rochus, who looked to get everything back. Rochus is not a conventional player, certainly not the homogenous variety spat out by tennis academies around the world, but knows his game.
He mixes things up with a mixture of slice and top spin and adds a few dropped shots for good measure. It's been fashioned from 13 years on the tour and helped him win two career titles and more than US$4.4 million in earnings.
"With my size I don't have the power like those big guys," he said. "I need to mix a lot and use my angles ... the talent I have for this. I don't have the power like the others but I have something else. I move well and have very good hands so I need to use this when I play."
Rochus came close to not playing this week. Not only was he on the cusp of direct entries with his ranking of 68 but he also contemplated pulling out because of a heavy cold. It hasn't helped that he's played three minutes short of 10 hours this week with his second-round defeat of Thomaz Bellucci lasting three hours 12 minutes.
"I don't know [what is getting me through]," he said. "Before the [first] match with [Tobias] Kamke I was close to not going on the court and five days after I am in the final. I cannot believe it. I am giving my best and I have never played so well in my life ... The magic of the game."
Ferrer can make his own magic. The quietly-spoken Spaniard, who stands 1.75m and weighs 72kg, has a good allround game but doesn't possess any major weapons other than his incredible speed around the court. He turns hopeless causes into opportunities and makes the court seem small for his opponents.
He played the best match of his week against Verdasco, who made too many errors on the big points to build any pressure, but admitted to fatigue after five sets today.
Ferrer holds a 5-2 record over Rochus, but Rochus beat him easily 6-2 6-0 in their only previous match at Stanley St in 2006.
"I remember it," Ferrer said ruefully. "I will try for revenge tomorrow.
"I'm not surprised he's in the final because he's a very good talent. I have played him a lot of times and the matches are always very close and tomorrow is going to be the same."
- APNZ