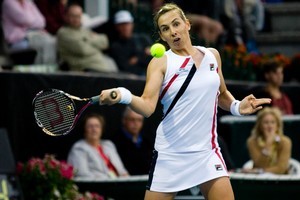 Marina Erakovic doesn't tend to check to see who she is playing in the next tournament, preferring to leave it to her coach to brief her, but she will have been gladdened to hear her first round opponent at the Australian Open will be a qualifier.
It will give the New Zealand No 1 a great chance of matching her best performance in Melbourne, when she made it to the second round in 2009. If she can progress at the year's first grand slam, she will meet the winner of the match between 24th seed Lucie Safarova of the Czech Republic and American up-and-comer Cristina McHale, who played at last week's ASB Classic.
Erakovic hasn't won a singles match all year, which sounds more dramatic than it really is. She was bundled out of the ASB Classic in the first round by Angelique Kerber in three tight sets and then had her chances while losing 7-5 6-4 against top seed and former ASB Classic champion Yanina Wickmayer in the first round at this week's Hobart International.
"It was tough," Erakovic said. "Yanina is a great player and hits a big ball but, unfortunately, I couldn't get on top of her and dominate in the way I would have liked.
I definitely had my chances.
"I'm playing well. It's the small details in a match that can change things. And sometimes you just get a couple of tough first-round draws."
It's a prosaic attitude from a player who has matured over the last three years because of her ups (she beat world No 3 Victoria Azarenka last year, her first win over a top 20 player, appeared in her first WTA Tour final in Quebec and progressed to the doubles semifinals at Wimbledon) and downs (she ended 2010 ranked a lowly 324 after an 18-month battle with injuries).
She knows she is going to have her share of good weeks, when she can go deep into a tournament, and others when she will check the departure board at the nearest airport to find the next tournament to play. She also has doubles to keep her hand in the game, and bank manager happy, and tonight is due to play in the semifinals at Hobart.
She proved in 2011, when she jumped 263 places to her present ranking of 61, that she can mix it with some of the game's top players.
What she would like, however, is to do it more often and the 23-year-old is searching for a major weapon. Rather than focus heavily on her weaknesses, like her movement and backhand, she's looking to improve her strengths.
"I have been working really hard on my forehand to make it a bigger weapon, to go after it more," she explained. "It's a big strength of mine. If I can make it even bigger, that would be fantastic.
"My serve is also pretty big and I want to make it even bigger. If you have something that's a strength, it make sense to make it better and better."
Erakovic isn't sure where the tour will take her next. It might also depend on how she goes next week.
She had hoped to play in big-money events in Dubai and Doha but her ranking might leave her two or three places short of making the main draw. Instead, she might head to the clay in Bogota and Acapulco.
"It changes on a dime," she said. "That's why I pretty much live day-to-day."
- APNZ