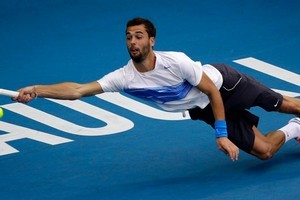 The Big Wet has returned to curse Stanley St, with New Zealand's showpiece tournament thrown into chaos by persistent rain last night.
At 10pm, tournament director Richard Palmer made the decision to postpone the two remaining quarter-finals until today.
That means the winners of the Fernando Verdasco and Guillermo Garcia-Lopez - Verdasco leads 3-1 in the first set - and David Ferrer and Alejandro Falla games will play two matches in one day.
Ferrer, the top seed and major drawcard, will be forced on to the back court where there is limited spectator access and television coverage.
Verdasco, who is still in the doubles, faces the prospect of being on court three times tomorrow, a scenario he would have been keen to avoid with the year's first grand slam, the Australian Open, starting on Monday.
Tournament director Richard Palmer, who watched rain force the two finals of the ASB Classic indoors last week, said that late last night they were still considering taking the remaining quarter-finals indoors, but a brighter forecast and a desire to maintain the integrity of the outdoor tournament convinced them to load up today's action.
"We had five or six different scenarios, including indoors at various venues," he said. "Where it could leave us, if all goes to plan [today], is with a semifinal of the doubles and two finals on Saturday."
Palmer said there was provision to play into Sunday, though again that is a scenario everybody wants to avoid as Australian Open organisers are under no compunction to give the finalists here a day off on Monday.
Palmer was quite surprised they got as far as they did yesterday, as conditions were dull and grey and the air heavy with moisture from the time they started at 1pm.
The "fun" started at 4.25pm in the day's second quarter-final between Olivier Rochus and Benoit Paire. They were forced from the court for close to 2 hours. That match finished just before 8pm and Verdasco's match started shortly after, but they were forced off the court at 8.20pm.
Fifteen minutes later a Verdasco slip and some more drizzle put the players off again, this time for good.
Philipp Kohlschreiber and Rochus had time to win their quarters against Nicolas Almagro and Paire respectively, setting up a bantamweight Heineken Open semifinal showdown.
The diminutive Rochus beat 1.95m Paire 6-3, 6-7 (5), 7-6 (3), while Kohlschreiber tipped out the second seed Almagro 7-6 (5), 6-4, despite having just two break points.
Even without the 2-hour rain delay, Rochus' match was a marathon, with Paire's beguiling shot-making and booming first serves several times threatening to steal the match.
Paire is destined to become a crowd favourite on the ATP Tour, though following him should come with a health warning.
He has a laissez-faire attitude to the big moments and is just as likely to hit a peach of a drop shot from a metre behind the baseline as he is to dump a short ball halfway up the net.
The flat-hitting Rochus is more predictable, but no less effective.
"Olivier is very experienced and is different to play against," Kohlschreiber said. "He's the shortest guy on the tour, which makes me big on the court. He's playing very flat, [hits] many slices and has a great touch. It's always close against him. I'm a fighter, he's a fighter."
This will be Kohlschreiber and Rochus' third trip to the semis here.
Rochus proves stature isn't everything in tennis
They say tennis is a game for all shapes and sizes.
Yesterday's highly entertaining Heineken Open match between the ATP's shortest player and a Frenchman nicknamed The Stalk suggested "they" might be right.
There was something just a little comical about the way La Tige and a man Mike Tindall would probably try to long toss at the pub went at each other. It wasn't quite Gulliver's Travels, but it wasn't far off it.
Benoit Paire, the French up-and-comer with the long levers and game that perilously treads a fine line between languid and lazy, rather sloped around for the most part. His big weapons garnered plenty of winners, however the distance between his heart and his brain seemed to cause a few issues, mostly of the temper-controlling kind. He also spent a curious amount of time crashing onto what does not appear to be a well-cushioned derriere.
For those who haven't seen Paire on the tele, think a Simon Mannering doppelganger who is so skinny that when he turns side on he becomes invisible to the naked eye.
Olivier Rochus, by contrast, is an all-energy package of industry. Had he been the eighth dwarf in Snow White, he would have been named Busy. In fairness that's a touch hyperbolic.
At 168cm (or 165cm if you prefer Wikipedia to the ATP website) he's too tall to make the cut for an extra in The Hobbit movies. Five foot six in old money isn't all that short. Okay, that's not true either. It's tiny, but Rochus at least appears fairly relaxed about his stature (more than $5 million in prize money will do that to a man). In the ATP guide he lists his childhood ambition as "to be tall".
Hard to see that panning out for him. Maybe he should have gone for "win the French Open doubles title", which he did alongside countryman Xavier Malisse in 2004? Or perhaps win a couple of ATP titles and make nine career finals to date.
Rochus is a testament to the fact that stature isn't everything in tennis. That said, it doesn't do any harm, either. Auckland tennis fans have seen that first-hand in recent years through the exploits of 2010 champion John Isner, a hulking American who stands at 2.06m.
It's also no coincidence that the game's fastest serve was recorded by the game's tallest man. Last March, Ivo Karlovic, who has 2cm on Isner, sent down a 251km/h thunderbolt during a Davis Cup match against Germany. Those long levers can be useful all right.
But they don't, however, guarantee success.
Karlovic and his Croatian teammate Ivan Dodig lost that doubles match, and Croatia lost the tie 3-2.
Last evening before the rain tumbled down at Stanley St Rochus held the upper hand over The Stalk. When the pair returned they fought out a close third set, finally won by Rochus in a tie break. That, one supposes, rather makes the case for the sport for all sizes argument.
During the rain delay Paire and Rochus, who are reputedly great mates, sat together on the balcony of the players' lounge exchanging pleasantries.
They looked like just another couple of bored twenty-somethings. It was really only on court that the genetic differences became so glaringly apparent.