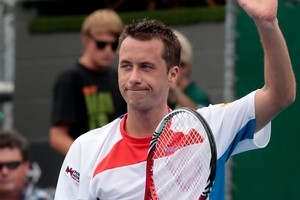 Sometimes the work of one hand is better than two.
Germany's Philipp Kohlschreiber - the Heineken Open's perennial quarter-finalist - will take his solid game, highlighted by one of the sport's most eye-pleasing backhands, into the quarter-finals for the seventh time in eight visits to Auckland.
He got there by beating the United States' Next Big Thing, Ryan Harrison, who followed the previous Next Big Thing, Donald Young, out of the tournament and off to Australia.
He will face Nicolas Almagro on centre court today after the Spaniard beat last year's surprise semifinalist Colombian Santiago Giraldo in straight sets.
It shapes as a battle of the one-handed backhands, a weapon that is deployed less and less by the sport's young hopefuls.
If there is a blight on men's tennis, it is the gradual homogenisation of playing styles.
Serve and volley went the way of the wooden racket and the one-handed topspin backhand looks as if it will soon become a museum-piece as well. You just need to look through the ATP Tour media guide, which lists playing styles, to see how the two-handed backhand has taken over the world.
We'll be left with only the ugly two-fisted punch, assembly-line manufactured at any number of Florida academies and East European child-slave labour, sorry, tennis camps.
"When I started, the one-handed was the most popular shot for the backhand," Kohlschreiber said, "but now I would say that the children always start with the two-handed backhand and now they're going to stay.
"You have some advantage when you're younger because you haven't got as much power and it's easier to push the ball better, so it's hard to say which is better."
Two-handed might be easier when you're young, the shorter stroke might mean there is less that can go wrong with it, but it's not a pretty shot. Its aesthetics are more suited to a baseball diamond than a tennis court.
"The response I get from people is that I have a beautiful backhand, so that's nice," said Kohlschreiber, ranked 42 in the world. "Not many people say that about two-handed backhands.
"But I think [Novak] Djokovic has an unbelievable two-handed backhand. It doesn't have to look good, it just has to be a good shot."
Kohlschreiber's was good - very good - yesterday, but it took a while to get there.
Harrison's serve troubled the German, winner here in 2008, in the first set.
"Maybe the first set wasn't that good, but I raised my level which was very good for the confidence.
"He served very well but the longer the match went I read his serve better and got more balls back. I always felt pretty good in the rallies. I dictated most of the points.
"What I saw was that when I went stronger, he rushed a little more."
Kohlschreiber will need a different approach against Almagro, ranked No10 in the world and known for his combustible temperament.
"He has a lot of power. It's tough, you have to handle his power shots. You have to run a lot to get back many balls to frustrate him and to make him over-hit balls.
"But I think I'm a good chance on hardcourts."
All Almagro's 10 ATP titles have come on dirt.