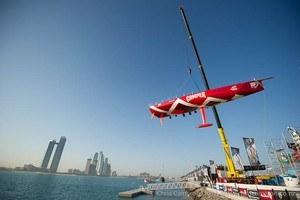 Here we are in Abu Dhabi with less than one week to go to the start of Leg 3.
This Leg will essentially repeat the format of the previous one with a short sprint up the coast a bit where the boat will then be lifted onto a ship and shipped through the high risk piracy area to a safehaven in the Indian Ocean.
From there Leg 3 is resumed racing all the way to Sanya in China, down through the Malacca Straits around past Singapore, up to the coast of Vietnam and then to the finish in Sanya.
Weather wise it could be one of two extremes for the first part of the leg from very light to a strong 20 to 30 knot Shamal type wind as we saw on our arrival here. For the second part of the leg from the Indian Ocean up to China it will be predominantly on the wind with plenty of rain squalls and tropical weather.
Probably the biggest headache will be presented getting through the Malacca Straits where we're likely to encounter all sorts of extreme weather and other obstacles such as unlit local fishing boats and dangerous floating debris like logs.
Passing Singapore we enter another area where there is a potential for pirate attacks and once through that we face a long hard beat up to Vietnam in what's likely to be 25 to 30 knot winds. So all-in-all it's shaping up to be a tough leg that's going to be hard on both boat and crew.
Keep an eye on what the fleet does on the way to the top of Indonesia as the decision on whether to take a more northerly or southerly route is looming as a key decision for navigators/tacticians and one where's there big potential for gains and losses. The approach to the Malacca Straits and how teams handle the local land and sea breezes is another area where the leaderboard may get a shake-up. The strong tidal currents through there can also turn things around. I can remember in the last race the currents were so extreme that we actually had to anchor for a few hours to stop ourselves losing ground at speed!
There's still plenty to play for and as we've seen so far this is a very close yacht race with very little between the boats and all the crews pushing incredibly hard. Accordingly, we've put a lot of work in on this stopover on trying to make our boat faster and improving our speed across the board.
Looking at our results so far we're sitting on one third and three seconds and are second overall, but we're far from content with that. We need to start getting some firsts and reduce the point differential with race leaders Telefonica. They are currently 8 points ahead of us and we want to reverse that. They've sailed very well up until now but we're confident that we're capable of beating them. First place is what we're after and we're going keep on pushing until we get it.
The sprint down to Abu Dhabi was incredibly useful as it was the first time we've spent a decent amount of time sailing alongside our competitors and in particular Telefonica.
That meant we could identify areas where we would like to improve against them so we are now addressing those particular areas. That involves looking at every fine detail that we can improve on the boat from reducing the aerodynamic drag of the rig to the way we stack gear onboard. Essentially, we're looking for refinement in a number of different areas rather than a magic bullet.
The team that will win this race at the end is the team that can keep their rate of improvement going the best during the race.
That's what we're aiming for and so far we look to be making not bad progress.

Talk soon
Stu