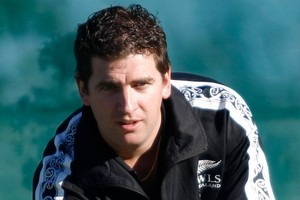 Andrew Kelly, whose spectacles and studious manner have won him the nickname Harry Potter, created a bit of bowls history six years ago in Wellington when, at 17 years old, he was skip of the losing four in the national final, the youngest to achieve that distinction.
Today at the Carlton-Cornwall club, weather permitting, Kelly wants to add to that by becoming one of the youngest skips to win the title when he meets an Avondale four skipped by Neville Hill, widely regarded as one of New Zealand's most gifted bowlers.
Hill, Mike Bradshaw (who won the New Zealand Open pairs with Hill in 2010), Colin Haysham and Brett Hassall made the final last night on the St Heliers carpet, beating a lineup of stalwart Auckland titleholders, Wally Marsic, Steve Cox, Neil Fisher and Tony Garelja 16-14.
If Hill wins today it will become one of New Zealand bowls' most cherished legends, as he has been one of the game's characters and has been in the final eight on 18 occasions at nationals without winning a championship.
Earlier, the Marsic four scored a major triumph in winning the quarter-final against Gary Lawson's four, thus ending Lawson's hopes of gaining an 11th title and moving past Nick Unkovich and becoming the sole recordholder.
Even allowing for Hill's genius, the Kelly line-up of Ali Forsyth, Blake Signal and 21-year-old Aucklander Greg Ruaporo will start favourites. Also against Hill will be the fact that his game ended last night after 8 o'clock.
Kelly had a tough semifinal against a competent four of West Coasters - Lance and Shane Pascoe, 1998 singles champion Kelvin Scott and Steve Beel, who shared in the fours title in 2005.
After 10 ends Kelly led by only 10-8, but the game turned in his favour when he scored a five on the 11th end.
Kelly believed his team's success so far was due to its harmony. But he said having Forsyth as a late replacement had been a bonus.
"The experience and everything else he brings has been fantastic."
Lawson looked to be heading towards a win over Marsic, but the game turned when some wayward drives and a superb final effort by Marsic saw Lawson drop a seven on the 10th end.