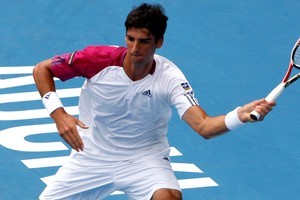 Plan A for the Open is Let's Hope the Forecast is Wrong.
Plan B will be revealed only when Plan A goes awry.
After a soggy weekend that saw the doubles and singles finals of the ASB Classic shifted indoors, tournament director Richard Palmer has been greeted with the cheery news that the latest Metservice forecast for Auckland is grim all week.
That is poised to cause havoc with a Heineken Open schedule that is already full to bulging due to Sky TV's insistence that centre court action start at 1pm.
The bulk of the players had arrived yesterday and most were able to practise outdoors thanks to a rare break in the weather. At 5pm, just an hour after the women's final was completed, tournament sixth-seed Thomaz Bellucci was hitting up on a bone-dry centrecourt.
It could be a week of playing in between the rain but, as Palmer points out, predicting weather for Auckland is fraught.
"The forecast for [last] week was absolutely diabolical, yet we got four uninterrupted days. We had a lot of rain overnight and in the mornings but we got four totally uninterrupted days.
"Yes, the forecast is not good ... but Auckland's weather is variable and we have to start positively on the premise that we are going to get the tournament played outdoors - or at least most of it."
Palmer said he understood the frustration of those who had paid for seats to the finals and were denied entry to the indoor hangar.
There is hope, too, that the unfortunate circumstances of the weekend might provide some impetus at local government level to fund a roof over centrecourt.
That was all part of the redevelopment grand plan. While Next Generation has paid for the improvement to the parking and off-court facilities, the development of centrecourt is the responsibility of a cash-strapped Auckland Tennis, which is believed to be about $8 million short of what would be required.
At the moment a flimsy plastic sheet passes for a roof over the Robinson Stand, seats that have been sold as covered. That has potential to cause more issues as rain pools on top of it, creating pressure that can only be alleviated by poking holes in it, meaning punters have to be shifted out of the way of the drips.
"That's why we want to have a roof, so this situation is catered for," Palmer said.
"I fully understand how patrons are disappointed. A lot of people have travelled a long way and they're unhappy, but we've suggested that anyone who is really unhappy should send a letter or an email to the Auckland Regional Council or District Council, or whatever it is nowadays, and say, 'Hey, listen, why don't you put more money into getting a roof so we don't get rained out?'
"In all seriousness, we do feel for the people who are the paying customers."