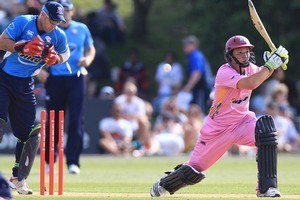 When did cricket become a full contact sport?
I have decided to dedicate the year to watching T20, taking very small steps at first and building up to watching a couple of overs at a time.
The rationale is this: it's just not right to slag a sport off without watching it. There may be nuances in there somewhere that give meaning to this crazy nonsense. Millions of Indians can't be wrong. By the end of the year, who knows - T20 might even grow on me.
Which brings us to a Big Bash match on TV. The Big Bash, for those who don't know, is the Aussie league for 20 over cricket.
This particular game was between the Red and Green teams. From where they came I do not know, because the commentary information didn't extend to that. The teams were called the Smashers and the Raging Infernos, or something similar. It wasn't all that clear where they were playing either.
The commentators referred to the ground as "The G".
Within the very first over, the two Green openers came together mid pitch and touched over nothing at all. From memory, this involved one of those masculine-yet-dainty clenched fist handshakes.
This touchy-feely trend is flourishing in test cricket as well. Australia in particular are a tactile team. A good over from a bowler results in fielders sprinting in from far and wide to give the hero a cute little slap. I'd swear that after an especially good effort against India, 12 players patted James Pattinson on the back, which meant that a couple of teammates had two turns. Batsmen continually touch body parts for reinforcement.
Cricket, once a very staid sport, has made a quantum leap in this regard. Initially, there was inappropriate contact via cellphones as blokes rang people they hardly knew with "pitch and weather reports". This desire to reach out has filtered back to the game, leading to constant physical contact for almost any reason at all.
"Oooh, Dave just bowled a nice outswinger, I must go and give his lumbar segments a workout."
Cricket is not alone in this. League has become an excessively touchy-feely sport.
Yes, the players may move around a lot but they are also capable of being extremely and instantly close.
Modern players leap in to congratulate each other with little taps and hugs, but things really hot up when a teammate commits an error. Even Cronulla under Ricky Stuart could bolster a stricken teammate with these heartwarming touches of attitude-enhancing affection. Not that it made any difference to Cronulla. But they still did it.
Manu Vatuvei made so many mistakes for the Warriors one day that he was in danger of getting a rash.
Here's a bit of advice - if you want to feel the love, join your local league team and make a lot of mistakes.
Anyway, back to the alleged cricket match between the Red and Green teams.
Deep into the Green innings, on about the fifth ball, one of their openers felt compelled to release the shackles, hurtled backwards, and played a shot straight out of Axe Murdering for Dummies.
At this point, I took a break via the Food Channel, then returned to the Big Bash to find Allan Border holding a microphone.
Watching Border comment on T20 is akin to finding Sugar Ray Leonard appraising Sonny Bill Williams' boxing career.
But there he was, all silver haired and straight-faced, his mere presence suggesting that T20 is a game worth dissecting.
(Border, the ultimate cricket lion- heart, probably earns more money holding that microphone than he ever did holding a bat for 11,000 test runs.)
No one ever needed to give Border lots of hugs in his heyday, and we didn't need T20 back then either.
But life moves on, and what else is there to do but try to move with it.