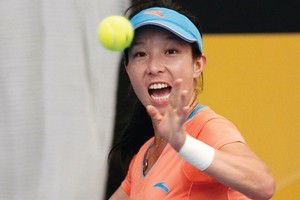 The organisers of the Heineken Open have ruled out changing the schedule of next week's men's event despite the weather having the last say at the women's ASB Classic today.
The final of the women's event, won by China's Zheng Jie today 2-6, 6-3, 2-0 over Italian Flavia Penetta, was held over from yesterday and late this morning the decision was made the play it indoors.
That meant about 200 corporate guests got to see it live, rather than the 3000 who would have watched it on centre court.
With new host broadcasters Sky now calling the shots, matches now start at 1pm rather than 11am under TVNZ.
But tournament director Richard Palmer today ruled out starting play earlier despite a grim forecast.
"Anyone who has lived in Auckland for five minutes knows the forecast is notoriously inaccurate and given we have an ocean on very close either side the conditions are very changeable," Palmer said.
"If you actually look at the week we've just had, the forecast for the whole week was absolutely diabolical. Yet we got four uninterrupted days. We had a lot of rain overnight and in the mornings but we got four totally uninterrupted days.
"So if you're looking forward to next week, yes the forecast is not good and it could be the opposite, we could get four or five days when this happens, heaven forbid ... but we have to start positively on the premise that we are going to get the tournament played outdoors, or at least most of it."
Palmer, who skirted around the issue of what will happen to the Heineken Open schedule if the forecast is correct, conceded patrons were disgruntled at having to miss out on watching today's final live. While a few hundred watched yesterday's double's final between Flavia Penetta/Julia Goerges and Andrea Hlavackova/Lucie Hradecka live at the Stanley Street dome, a decision was made early to open up today's singles final only to corporate guests.
"As soon as you get bad weather you're going to get unhappy people," he said. "They bought a ticket to an outdoor tournament, it's like an outdoor concert or anything outdoors, it can get hacked around by the weather. There are situations in other sports where things get cancelled totally. In the case of our patrons, many sat around for quite a while yesterday and came in in reasonable numbers again today, but it didn't happen and the refund policy under which they bought their tickets then kicks in."
It is understood that patrons will be refunded only half of the cost of the ticket.
Tomorrow two New Zealanders are scheduled to appear on centre court - Artem Sitak at 1pm and Michael Venus not before 7pm. Sitak plays a second-round qualifying match against Frenchman Adrian Mannarino after beating former champion Dominic Hrbaty 6-3, 6-4 today.
Venus is up against Santiago Giraldo of Colombia.
- APNZ