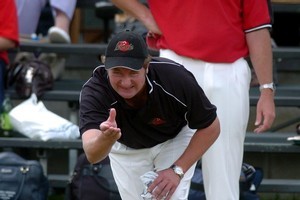 Gary Lawson and his crack four of Richard Girvan, Danny Delany and Chris Le Lievre may have been in indifferent early form in the national fours championship but started to exert themselves when post-section play began yesterday on Auckland's artificial greens.
Lawson comfortably won both his matches to make today's quarter-finals against Aucklanders Wally Marsic, Neil Fisher, Steve Cox and Tony Garelja. Another impressive composite line-up, Andrew Kelly's young side of Ali Forsyth, pairs champion Blake Signal and Greg Ruaporo, gained a crucial win first up against the Taranaki four of Dean Elgar.
The other significant result was Shannon McIlroy, skipping some promising young bowlers, to a 17-15 victory over four-time national champion Petar Sain.
Others to disappear early in the post-section rounds were the Brown's Bay fours skipped by veterans Ross Haresnape and Tony Marinkovich. West Coaster Lance Pascoe ousted Marinkovich, then gained a quarter-final spot with a one-shot second round win.
Birkenhead's Roy Parker and Waikato's Phil Bennett were other second round winners to make an early entry into the quarter-finals.
Sandra Keith, who won the singles title, was one of the early casualties in the women's fours. Her Canterbury-Counties composite were beaten by Onehunga's Olivia Broomfield. Mt Wellington's Jeanette Scarrott, Waikato's Doreen Schumacher and North Harbour's Judith Seager and Carole Fredrick were skips who made the quarter-finals after just one round.
The defending champions, Sue Burnand, Leanne Curry and the Boyd sisters, Mandy and Angela, will have to wait until today to know if they will be in the final eight.
So, too, will a couple of tough Northland fours skipped by Anne Bateman and Janice McLean. Their section was abandoned yesterday because of the conditions.