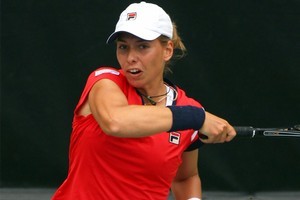 It has only been a few days but Sky television has been quick to make their mark on Auckland's summer of tennis.
Since winning the broadcast rights halfway through 2011 - ending a long association with state broadcaster TVNZ - the pay television operator was determined to offer a fresh product with a different look.
The most obvious change has been with the schedule. Effectively by starting at 1pm, the day session has been reduced by two hours, making it a squeeze to get through all the matches before the evening games get under way.
Sky has also put the premier match each day on after 7pm; understandable as they hunt for the evening audience but it was a shame to see Marina Erakovic playing before stands that were three-quarters full amid a muted atmosphere.
It was a marked contrast with 2008, when her games were played before vocal capacity crowds and she seemed to feed off the energy created by the packed afternoon throng.
In the past, night sessions were always an afterthought but maybe, over time, Auckland will start to resemble the Australian Open where the crowds - and matches - are much bigger in the evening if fans can adjust their schedules.
On the plus side, it has been a bonus for viewers at home, as Sky carries coverage through to the last game of the day (on Monday, it was after midnight) allowing fans to see more of the tournament, whereas TVNZ would cut away at 6pm, with a delayed package later at night.
Their new commentary teams have been professional but listening to the heavily accented English of Dominik Hrbaty and Pavlina Nola for long periods has probably been a tough call for the average Kiwi; certainly both are hard to understand at times and it is just a fact of broadcasting life - you have to be clear and crisp. The analysis and insight provided by someone like Belinda Cordwell has been sorely missed.
Sky have introduced some clever new camera angles, and the super-imposing of the relevant country's flags on each half of the court (similar to what is seen in some swimming coverage) has been a nice touch.
On the downside, they have often opted for multiple replays which has occasionally meant missing a serve or two before they cut back to the action.
In another change, Sky's (understandable) insistence on no TVNZ faces has meant long-time on-court announcer and master of ceremonies Simon Dallow is no longer employed.
New man Stuart Dwight had an unfortunate start. As a downcast Erakovic trudged off court on Tuesday, after being just one point away from serving for the match but losing a tight three-setter, he implored the crowd: "A great effort tonight, ladies and gentleman, give it up for ... Maria Sharapova." Oops.