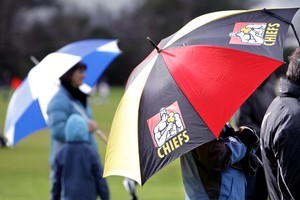 Auckland's greens became something closer to swimming pools today, forcing the abandonment of play in the women's fours at the national open bowls championships but the men's fours continued to play through the deluge.
Some play was possible in the women's fours before play was called off but a need to whittle down the larger field in the men's fours saw games continue through the rain.
Some quarter-finalists were found in the men's fours but other games will be played tomorrow morning to find the last eight.
Andrew Kelly's composite team continued to impress as they beat the previously unbeaten Dean Elgar composite side 20-6.
Gary Lawson's New Zealand representative crew of Richard Girvan, Danny Delany and Chris Le Lievre eased past a Carlton Cornwall team skipped by Max Urlich, winning 21-5, and other winners included Neville Hill's Avondale team and Shannon McIllroy's composite side.
Among the women to advance before play was washed out were Olivia Bloomfield's composite fours, who triumphed 17-11 over a Leeston side featuring this year's singles winner Sandra Keith.
Bloomfield's side will face Leigh Griffin's composite team on the same greens tomorrow (Sun) morning, and both teams will roll up alongside Sue Burnand's composite defending champions.
Backed by Black Jack Leanne Curry, New Zealand squad member Mandy Boyd and her sister Angela, Burnand made short work of opponent Molly Tipene (Mangere), winning 23-9. Anne Bateman's Northland women also came through the round without a scratch.
Three rounds of post-section will be played in the women's fours tomorrow, while the remaining post-section matches in the men's fours will also be played tomorrow morning.
- APNZ