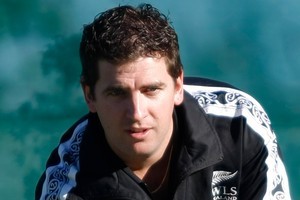 Looking more like cricketers or even footballers than the old bowls stereotype, a team of the country's most promising players, skipped by Canterbury 23-year old Andrew Kelly, emerged yesterday in Auckland as one of the front-runners for the national fours title.
Kelly's line-up of Auckland's Greg Ruaporo, Wellington's Blake Signal, winner of the pairs this week, and Ali Forsyth swept through their remaining qualifying rounds to finish unbeaten. The late inclusion of Forsyth, 32, has boosted the four's average age to about 25.
One who was taken with the four's potential was a former New Zealand selector and long-serving national team manager through the 1990s, Mal Morrison.
He was in a team of mainly retired Thames Valley farmers beaten 30-6 by the Kelly four and was deeply impressed by their play and manner.
In winning their first five qualifying matches Kelly's four were tested only in their first game, against Onehunga's Joe Whitelaw.
They were also extended in their last match, which they did not need to win, against Onehunga RSA's John Evill, being tied at 8-all after six ends. But then Kelly trailed the jack to pick up seven shots for another runaway result. The other comfortable qualifiers from this section were the Avondale four of Neville Hill.
In the most cut-throat section Gary Lawson's all-star four continued their struggles but narrowly won a crucial match with Shannon McIlroy to enter post-section, making Lawson's clash with Petar Sain unnecessary as Sain, too, had qualified by the fifth round. McIlroy needed the sixth round to enter post-section at the expense of Lou Newman.
Dale Edgar's Taranaki four continued to dominate this section, from which North Harbour's Rod Mahon also qualified. Others were the fours of Ross Haresnape, Grant Goodwin, Tony Marinkovich and Kelvin Scott. Wally Marsic, Tony Garelja, Steve Cox and Neil Fisher qualified in the sixth round.
Two leading women's fours skips, Sandra Keith and defending champion Sue Burnand, dropped matches yesterday, but qualified by the fifth round. Unbeaten qualifiers included Northland four of Anne Bateman, Joyce Dunning (Papakura), Avril Suter (Henderson), Estelle Hickey (Howick) and North Harbour's Judith Seagar, Carole Fredrick and Mary Guldbrandsen.