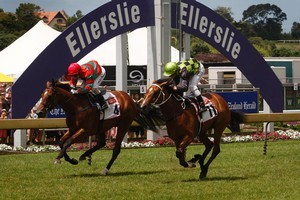 It's surprising there was no flourish of the whip.
James McDonald had time to jump off, salute the crowd, jump back on Sacred Knight and still win.
Well, nearly.
All that mattered was that McDonald's last ride as an apprentice was a winner, even if it was in a maiden race.
Making up for that was the style in which it was achieved.
Sacred Knight treated his opposition with the same restrained contempt James McDonald displayed against all of New Zealand's apprentices and pretty much all the senior jockeys.
The apprenticeship that ended with that maiden race at Ruakaka on Thursday was a sensation.
Right up there with that of Brent Thomson 40 years earlier.
McDonald had 3926 rides, 627 winners, $10,184,764 in prizemoney and 40 stakes winners.
His career average of 6.26 to this point is sheer class.
McDonald turned 20 yesterday and chose not to ride at Rotorua. He will ride as a senior jockey for the first time when he takes dual trials winner Keepitinyakilt out of the Tauranga birdcage for his debut run in Race 1 today for trainers Donna and Dean Logan.
There is probably not a better example of a young man who has maintained a professional attitude to a seriously difficult job for so long.
The fact that there were signs of very slight cracks in the veneer over the past 12 months is testament to how difficult the job can be for those who are not natural lightweights.
Every time McDonald went out for each of those 3926 rides the spotlight was on him and a pressure situation existed.
Each morning he has lifted his head off the pillow for the past two and a half years - often at 4am - he's known he had to keep on top of a body that was screaming to be allowed to go beyond 54kg.
Try that for just three months and you'll know what McDonald has been going through. Many can't hack it.
Sure, the rewards are there, but you can tell yourself that only so many times.
McDonald ended his apprenticeship with a lot more style than he began. "I took 28 rides to get my first winner," he told the Weekend Herald yesterday. I had plenty of seconds and, boy, I was getting frustrated.
"To end it the way that happened was pretty cool, that horse did it in style.
"It was good that it was owned essentially by IDL Racing that has been a good supporter of me."
Top three highlights?
McDonald bundles all three together, unable to separate them.
(1) "Getting the invitation to ride in the Jockeys' Series at the International meeting in Hong Kong last month."
(2) "Riding my first group one winner [Special Mission, Breeders Stakes, Te Aroha]."
(3) "My trip to Ireland and England and riding for some of the leading trainers over there."
A few months ago McDonald looked certain to be based in Australia before the end of the year.
Story after story came through, many with "he's already signed", none of which proved true.
It was clear he was looking to springboard semi-permanently across the Tasman off a successful spring campaign in Melbourne.
That didn't happen.
Scarlett Lady, the early Caulfield/Melbourne Cups favourite, disappeared to the spelling paddock and Peter and Philip Vela's two mares Guiseppina and Banchee failed to fire at the Melbourne carnival, not helped by rain-affected footing.
The odds of $1.02 that McDonald would go in the spring look about right for the chance of him eventually ending up in Australia, perhaps still sooner rather than later.
McDonald listed the spring in Melbourne as the biggest disapppointment of his apprenticeship.
He could come up with only one other, which indicates how good his four and a half years have been.
"I am disappointed I didn't win a group one on Zarzuela."
The high-class mare turned in some remarkable performances, but luck was rarely on her side and she was being nursed through leg issues, which eventually claimed her career when sent to Australia to be trained.
"She is one of the best horses I've ridden and might always be."
McDonald will not be too disappointed if that proves to be not quite accurate.
•Craig Williams was last night confirmed as the rider for Anabandana in her Australian debut on February 10.
The Australian champion jockey has committed to Anabandana for the Listed Caulfield race.
Last season's champion 2-year-old will be flown to Melbourne tonight.
Trainer Don Sellwood was happy with the casual 600m solo gallop the filly went through between races at Rotorua yesterday.
"She's got a big trip ahead of her in the next 24 hours so I didn't want her doing too much.
"She's bright and fit and I'm happy with her."
Sellwood said Anabandana's programme would depend on her first-up effort.
"At this stage all we've got planned are a couple of nice little 3-year-old fillies races - nothing too ambitious."