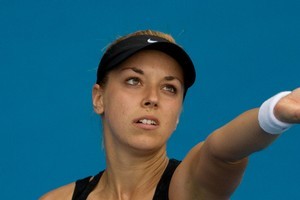 Her Auckland tournament over, Germany's Sabine Lisicki now faces a nervous wait to see if she will be fit for the Australian Open.
Lisicki will meet doctors today to find out if an abdominal injury will rule her out of the Melbourne tournament, beginning in nine days' time.
The 22-year-old was forced to retire from yesterday's ASB Classic quarter-final against compatriot Angelique Kerber after suffering an abdominal strain, pulling out late in the second set after a medical time-out and receiving treatment during two change of ends.
The tournament top seed was scratched from her doubles match the previous night with cramping after having battled through a tough three-setter against compatriot Mona Barthel in the singles draw and her run of bad luck continued yesterday.
Lisicki said she felt a twinge in her abdominals in the warm-up and the injury got worse throughout the first set.
By the beginning of the second, she was struggling with her serve, her pace dropping off notably. With no sting in her serve, she was virtually lobbing the ball over the net to her opponent, while her movement was also limited.
Injury withdrawals aren't unusual for the Auckland tournament. With a Grand Slam just around the corner players are extra cautious when it comes to injuries.
But Lisicki said she would not have been able to continue in the condition she was in regardless of how important the match was.
"It hurt. I couldn't serve. I hope it's nothing too bad and I will recover quick. Hopefully a couple of days off will be enough, I am just hoping for the best," a downcast Lisicki said after the match.
"I did something similar a while back. I knew if I pushed it too much it will take two weeks to recover. I knew when to stop. It was painful and I didn't want to go over the edge," she said.
Lisicki had planned on playing in a tournament in Sydney next week as part of her preparation for the Australian Open, but is now unsure whether she will take part.
"It depends on the results of my testing tomorrow.
"It really depends on what the doctors say," she said.
"I am just hoping for the best."