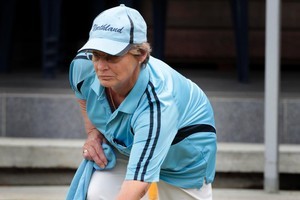 One upset defeat, with a fairytale tinge, has left Gary Lawson and his star-studded four teetering on elimination from the national fours bowls championship which started in Auckland yesterday.
In the opening round of a cut-throat qualifying section at Takapuna a composite four of mainly Northcote club bowlers, skipped by Shaun Bayne, beat Lawson and his all-New Zealand representative lineup of Danny Delany, Richard Girvan and Chris Le Lievre.
That was followed by what would have been another sensational loss in the third round when a Takapuna four, skipped by Chris Taylor and with a remarkable near 94-year old Eddie Earwaker as lead, were 16-7 up with five ends to play, only to drop two fives and a three on the last four ends to lose 21-17.
But the upset to Bayne means that Lawson will have to win at least two of his remaining qualifying games today at Blockhouse Bay to make post-section.
That will not be a formality as two of those will be against the strong line-ups of another Black Jack Shannon McIlory and the accomplished Peter Sain.
Lawson, in particular, was never happy in the opening game against Bayne, a former South African who has lived in New Zealand for 17 years and has yet to win a North Harbour title.
But even though his side of Dave Probert, a 79-year old who has been playing since 1966, Barry Dorward and Dennis Bawden had nothing like the reputations of their counterparts, Bayne was never over-awed and so outplayed was the Lawson four that on one end they just avoided conceding an eight.
"Bowls is bowls and these things happen," Bayne said. "I've beaten Gary before, once in the Browns Bay Pairs, but I've lost to him as well."
Dorward, a self-confessed biker, who still rides a Harley-Davidson, was the odd-man out in the four, as a member of the Browns Bay club who was a late replacement.
"I haven't been playing much lately," he said. "When I saw who we were playing first I thought we would be annihilated."
Most of his spare time now was spent riding his Harley-Davidson.
Bawden, though, is not without bowls credentials and has won centre titles.
Left with three wins in the section were Sain, Browns Bays' Ian Pyke and a solid Taranaki four skipped by Dean Elgar in which every player has a gold star for winning five centre titles.
Other leading sides starting well were those skipped by Ali Forsyth, in as a replacement to play with pairs champion Blake Signal, Neville Hill, Ross Haresnape, Grant Goodwin, Tony Marinkovich and Wally Marsic.
The defending women's side from last year of Sue Burnand, Mandy and Angela Boyd and Leanne Curry dropped their second game to Henderson's Avril Suter.
Among those starting well were singles champion Sandra Keith, Northland's Anne Bateman, Counties' Joyce Dunning and North Harbour's Judith Seagar.