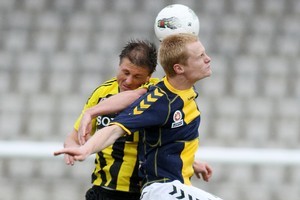 Leaders Central Coast Mariners and the Wellington Phoenix were the only top-five teams to claim maximum points in the Hyundai A-League's ambitious Big Wednesday.
The Mariners' win was significant on two fronts. It allowed the Gosford-based club to farewell favourite son Matt Simon in style.
The effervescent striker scored a goal in each half - the first just 20s into their home game against Melbourne Victory - as they won 2-0.
With second-placed Melbourne Heart losing 3-1 at home to the rejuvenated Adelaide United the Mariners stretched their lead to six points.
The five games in one day rewarded Football Federation Australia with a season-high 23 goals for the round.
Only the Victory failed to score. Stung by Simon's early strike at Bluetongue Stadium, they battled bravely but failed to take anything from Simon's parade - he made the game safe with his second four minutes from time - as he prepared to leave the Coast and head to K-League club Channam Dragons.
The Phoenix, meanwhile, welcomed back injury-hampered Paul Ifill, who pleased the fans with his late goal sealing the 4-2 win over Sydney FC at Westpac Stadium.
Facing a fourth game in 16 days when they play Perth Glory at the same ground on Sunday, Phoenix boss Ricki Herbert admits it will be a balancing act to ensure his tiring players are as fresh as possible for a game which, if they win, would have them knocking on the door of the top three.
Two goals from All Whites striker Jeremy Brockie laid the foundation for the Newcastle Jets' 3-2 home win over cellar-dwellers Gold Coast United.
Brockie's goals either side of halftime gave the home team a handy 2-0 lead before the visitors struck back through impressive winger Ben Halloran and Adama Traore levelled it at 2-2 with 12 minutes to play. Substitute Labinot Haliti struck a minute later to put the Jets back in front.
Adelaide continued their resurgence under new coach John Kosmina with a 3-1 away win over the Heart.
Sergio van Dijk hit two goals for Adelaide and Dario Vidosic one. Eli Babalj claimed a stoppage time consolation for the Heart at AAMI Park.
It was a see-saw affair at nib Stadium before Perth Glory and Brisbane Roar left with a 3-3 draw and a point each - enough for former pace-setters Brisbane to beat the Heart back into second place on goal difference.
On New Year's Eve Brisbane coach Ange Postecoglou did a jig on the touchline as his side broke their five-match losing run with a convincing 3-1 result over Melbourne Victory.
But now the jig looks as if it has been put away for good.
For most coaches coming from two goals down to secure a 3-3 draw would be cause for celebration.
But for Postecoglou, the performance was poor enough for him to label it everything from "unacceptable" to "cowardly".
"Perth Glory got robbed," declared Postecoglou. "They deserved to win the game. We were very, very ordinary and it would have been an injustice if we got any more than a point out of it."
It might not get any easier for the Roar as they have a short turnaround before playing Adelaide away tomorrow.