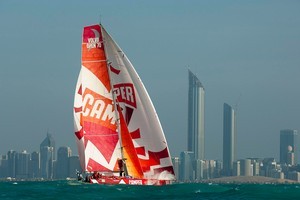 Team New Zealand are confident they have the boat to win the Volvo Ocean Race, despite being unable to match the speed of the leading boats in the short sprint to Abu Dhabi overnight.
The final part of leg two was completed overnight with a fast and furious 98-mile sprint along the United Arab Emirates coast from Sharjah to Abu Dhabi.
As expected, the shortened leg delivered close-quarters sailing with the entire fleet finishing within minutes after an intense battle down the coast.
In strong 20-25 knot winds, the New Zealand boat Camper made a faultless start and picked the right side of the course to lead the fleet at the first and only windward mark.
However, on the long reach to the finish Camper were run down by the superior boat speed of Telefonica and Groupama.
The French-flagged boat and Telefonica were locked in a thrilling battle for line honours, with Groupama securing victory by just 57 seconds.
While disappointed to have to settle for third, Camper skipper Chris Nicholson said he was happy with the boat's performance.
"It was a tough one for us. We did everything we wanted to do, our game plan was spot on, we won the start and we picked the right side of the course but we then got passed on the drag race to the finish," said Nicholson.
"The reality is that at the moment in a 20-knot tight reach Telefonica and Groupama would appear to have a slight edge over us."
But their lack of pace compared with that of their closest rivals does not appear to be ringing alarm bells for the crew. Nicholson insists Team New Zealand's VO70 yacht is faster in other conditions.
"There's a range of conditions which suit us better and we think we'll have a speed edge in over the rest of the fleet. We just need to bide our time for those conditions," he said. "We aim to win every race but if we can get podium finishes in legs dominated by conditions that we're not optimised for, then that's not a bad place to be."
Camper finished leg two second overall, with the first part of the leg from Cape Town to an undisclosed safe-haven port carrying 80 per cent of the points. Telefonica were declared overall winners for leg two, extending their race lead to eight points.