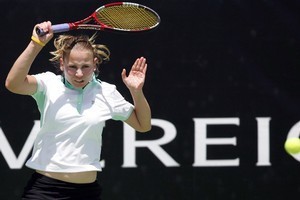 Sabine LisickiIt is the new curse of centre court.
If you are scheduled to play on the Stanley St showpiece arena, you better be prepared to bide your time.
The first three days of the tournament have seen marathon matches that have taken play past the witching hour and have given schedulers migraines.
When the ASB Classic was broadcast by TVNZ, they front-loaded their schedule to get the bulk of the feature matches finished on centre court before crossing to their network news. Sky TV are under no such obligations and are happy to broadcast feature matches long into the night.
On the first day it was past midnight when Jelena Dokic surrendered meekly to Mona Barthel.
Taking a doubles match scheduled for centre to the outer courts alleviated Tuesday's pressure, but three-setters between Peng Shuai and Aravane Rezai, Julia Goerges and Greta Arn and Angelique Kerber and Marina Erakovic still pushed the action past 11pm.
Yesterday - already causing conniptions among organisers as so many players still in the singles draw were also in the doubles - looked like reaching ridiculous proportions after the opening match sailed past 5pm.
To avoid a logjam, eighth-seed Monica Niculescu's match against Zheng Jie was switched to an outside court, along with a doubles match. A six-match programme for centre court suddenly became just four.
That saw far more seeds featuring on the back courts than organisers and the WTA would have wished for, but there was no choice. Ironically, the match between Monica Niculescu and Zheng Jie lasted just 65 minutes and Peng Shuai's loss to Lucie Hradecka was not much longer, but they were so far behind by then the evening session still only just started on time.
A 90-minute rain delay at 6-5 in the first set between Germans Sabine Lisicki and Mona Barthel didn't help, but the 2hr 23 minute-match put organisers behind the clock, even if Auckland had been bathed in sunshine.
"I'm not perfect," No 1-seed Lisicki said of the 66 unforced errors that contributed to the marathon match. "I improved on my last match. I knew I had to do that to win. I still didn't play consistent enough to win in two sets. The most important thing when you're not playing your best tennis is to still find a way to win."
That she did. She missed balls in the second set that she should have put away and she didn't go forward when the opportunities arose, often keeping the consistent Barthel in points.
That's not rare in early-season tennis and, with such a short lead-in time to the year's first grand slam in Melbourne, playing long, imperfect matches can be good for players.
While the quality has yet to reach the desired levels, the crowds cannot complain about not getting dollars-per-minute value.