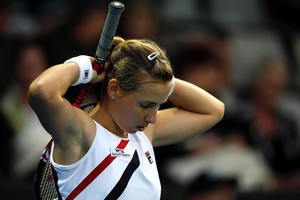 At times you get the feeling Marina Erakovic is just toying with you.
Just when she's comfortable, in a nice rhythm and winning points at will, she will shank a couple of two-fisted backhands so badly you'd swear she hasn't played for a year. Conversely, just when it looks like the tide is going out on her game, she'll summon up a wave of confidence and hit her way back into contention.
Nothing is ever simple with the 23-year-old and that might just be the way she likes it.
Under the lights at Stanley St last night - where she was beaten 4-6 6-4 6-4 by German Angelique Kerber - she was good, bad and indifferent, sometimes in the space of three points.
She would balloon returns far too deep, then clip the lines with cultured forehands. She would run down a seemingly irretrievable ball, then stand leaden-footed, quaintly clapping shots from Kerber that didn't appear all that deep or all that deceptive.
It's inconsistent, but in a strange way it's not maddeningly inconsistent. It just seems to be who she is. She's going to have her share of good weeks, where she'll be just good enough for long enough to get into the later rounds - just as she did in making her first WTA Tour final in Quebec City last year - and she's going to have plenty of weeks where she can check out of her hotel before Wednesday.
She's learnt to live with it. She carries herself with an equanimity that was missing during her injury-plagued years when her game appeared on the verge of permanent disrepair.
Erakovic knows what it feels like to feel truly helpless in a tennis sense. It's not when you're getting beaten by your peers; it's when you're getting beaten by your peers because your body - in her case a hip - won't allow you to compete to your maximum.
No 61 in the world is probably not where she wants to be, but it's a heck of a lot better than No 324, where she ended 2010.