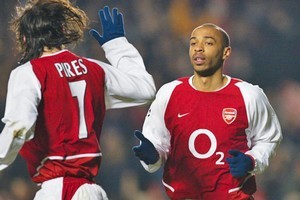 The King is back. Thierry Henry, Arsenal's all-time leading goalscorer with 226 goals, will return to the club for a two-month loan spell from the New York Red Bulls.
Henry, pictured in the current Arsenal strip for the first time, returns to a club markedly different to The Invincibles' scene of 2003-2004. That team was stacked with experience, but also boasted big, powerful footballers. Henry spearheaded a lineup including Bergkamp, Pires, Ljungberg, Vieira, and Campbell.
The re-signing of the 34-year-old won't cost Arsenal anything and is not a huge transfer - by his own admission, Wenger will most likely use the striker as an impact player once match fit.
But the decision to bring the Frenchman over the Atlantic reflects a shift in Arsenal's recent transfer policy. It suggests Wenger may be aware that he needs to get over his stubborn refusal to splash out on big names if the side is to fill up an increasingly-dusty trophy cabinet.
Arsenal have not won a major trophy since the 2005 FA Cup. At present, they are clambering for third place in the league, following a 2-1 loss to Fulham. Losing Cesc Fabregas and Samir Nasri highlighted a frustration within the ranks over Wenger's refusal to compete with richer clubs in the transfer market. In the years following The Invincibles' league triumph, Wenger invested heavily in younger players to lay the foundations for years ahead. Moving to the Emirates stadium meant tighter restrictions on the transfer budget, but Gunners fans have been impatient with the lack of silverware.
While other top Premiership clubs were shelling out on foreign talent, Wenger was nurturing the likes of Wilshere, Fabregas, and Ramsey. In recent years, Arsenal are the only team to come close to playing football like Guardiola's Barcelona. The problem is, there is only so much pretty play fans can take before they demand a prize at the end.
Fans want instant success, but Wenger has been mindful of building a financially stable club that produces flowing football. Aside from Sir Alex Ferguson, nobody has shown quite as much faith in youth as Wenger. Indeed, Henry himself was brought to the club as a fresh-faced winger from Juventus. Last year's purchase of Per Mertesacker for £8 million was the catalyst for a shift towards experience. It looked like a panic buy at the time, but perhaps Wenger is swallowing his pride and turning away from his insistence on buying young, developing players.
Thierry Henry's arrival will serve as a reminder that you need several experienced, world class players to win the league. Wilshere is the best example of Wenger's faith repaid, but the club cannot stay in a constant stage of development.
Henry has lost his pace, but not his legendary status and know-how. The man whose statue sits outside the Emirates Stadium may not hit the heady heights of his 8-year spell at Arsenal, but he will give Gunners fans a glimpse of a time where their team reigned supreme.