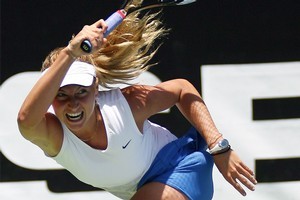 The true cost of Sacha Jones' defection to Australia will be known only in the fullness of time but around $500,000 has so far been invested in her.
One long-time tennis administrator says it is the most money ever invested in a New Zealand tennis player. Not all of it came directly from Tennis New Zealand coffers - most was from sponsors and private individuals - but it was all money directed towards tennis in this country.
Tennis NZ started funding Jones when she was a promising 14-year-old in 2004 and that investment increased from 16 as she began to fulfil her potential. The cash grants covered travel, accommodation, living and coaching.
"It would be fair to say that close to half a million dollars has been invested in Sacha throughout her career so far," says Tennis NZ CEO Steve Johns. "Our funding has decreased in the last couple of years, as we have faced battles like most sports organisations in this country but in the past we have directed specific amounts of money towards each one of our elite players."
Jones received most of her financial support from the SEED foundation, an organisation founded in late 2006 to "provide total support to enable exceptional, emerging New Zealand tennis talent to fulfil their potential".
Former professionals Brenda Perry, Brett Steven and Chris Lewis were enlisted to decide who would receive funding. They were unapologetically elitist - in the initial years, only Marina Erakovic and Jones received funding as no other players (including all the men) were deemed to have a high enough ranking.
The funding was significant - Jones received "six figure amounts" in 2007, 2008 and 2009. Erakovic was funded as well, before the tap was turned off in 2009 after she was deemed to be self-sufficient when she broke into the top 100.
In total, Jones has received close to $400,000 in SEED support - all as cash - while Tennis NZ gave around $100,000 to the Aucklander.
Says SEED chairman Alan Chester: "It is the most money put into any New Zealand tennis player ever.
"It was provided on the understanding Sacha would keep appearing for New Zealand so the events of the last few days are very disappointing."
Jones was 16 when she received the first SEED money and still under 18 in 2008 when she received over $100,000.
"I can understand her point of view and the attraction of Australia but it is sad she won't follow in Marina's footsteps," says Chester. "We had high hopes for her."
Partly because of the economic recession, and partly because of a new SEED strategy which spreads the money around more (there were seven recipients in 2011), Jones has received only around $20,000 each of the past two years. This has created a significant shortfall and subsequent economic pressures for her. It costs at least US$120,000 ($150,000) for a year on the WTA tour and Jones won just over $20,000 in prize money last year.
Brenda Perry has a long association with Jones and understands her move.
"While it is a blow for New Zealand, it is an amazing opportunity for Sacha and ultimately tennis is an individual sport.
"She has not yet fully explored her potential and now is when she has to make it count. Ultimately it is better than her giving it away and you would also hope that if she does make it one day she is in a position to help put a young New Zealander through a scholarship or something; that would be a nice payback."