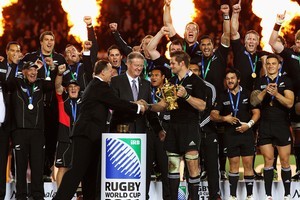 The All Blacks picked up the one piece of silverware they were after in winning this year's Rugby World Cup but they look set to scoop a number of Halberg Awards after the finalists were announced today.
Richie McCaw and Jerome Kaino were nominated for Sportsman of the Year, Sir Graham Henry is in line for the Coach of the Year gong and the All Blacks are likely to win Team of the Year and overall Supreme award.
Rowing is once again well represented with world single scull rowing champion Mahe Drysdale a finalist for Sportsman of the Year, along with three gold medal winning crews - Eric Murray and Hamish Bond (men's pair), Nathan Cohen and Joseph Sullivan (men's double scull) and Juliette Haigh and Rebecca Scown (women's pair) - among the Team of the Year finalists. Rowing's head coach Richard Tonks is a Coach of the Year finalist.
It means there's no room in the team's category for the Breakers, who became the first New Zealand side to win a professional Australian competition when they won the ANBL basketball crown, or Warriors who played in their second NRL grand final.
Valerie Adams has dominated the Sportswoman of the Year category over the past five years and has made another compelling case after winning her third consecutive shot put world title in 2011. Not only did she equal the championship record with a personal best 21.24m but she also went through the season unbeaten. She faces competition from Lisa Carrington (canoeing), Jo Edwards (bowls) and triathlete Andrea Hewitt.
Young shot put phenom Jacko Gill is a finalist for the Emerging Talent award alongside Warriors halfback Shaun Johnson, sailor Sam Meech and snowboarder Byron Wells.
One name to stand out among the finalists is Mark Todd. The 55-year-old this year won his forth Badminton title, 31 years after his first and 15 years since his last, and has already qualified for the London Olympics.
The winners will be announced on February 9.
Finalists for the 2011 Halberg Awards:
Sportsman of the Year: Richie McCaw (rugby), Mahe Drysdale (rowing), Jerome Kaino (rugby) and Mark Todd (equestrian).
Sportswoman of the Year: Valerie Adams (athletics), Lisa Carrington (canoeing), Jo Edwards (bowls) and Andrea Hewitt (triathlon).
Disabled Sports Person of the Year: Michael Johnson (para-shooting), Sophie Pascoe (para-swimming), Jayne Parsons (para-cycling) and Daniel Sharp (para-swimming).
Team of the Year: All Blacks (rugby), men's double scull (rowing), women's pair (rowing) and men's pair (rowing).
Coach of the Year: Graham Henry (rugby), Dayle Cheatley (cycling), Dick Tonks (rowing), Gordon Tietjens (rugby).
- APNZ