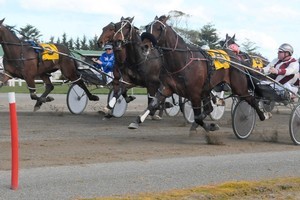 The pacer who could have ended up anywhere might feel right at home at Te Awamutu today.
Which makes Swift Therapy the horse to beat in the Te Awamutu Grass Cup for trainer-driver Tony Herlihy.
Swift Therapy is one of those rare pacers who would not have surprised you if he raced in a Derby as a 3-year-old, an age at which he once beat Victoria Derby winner Courage To Rule at Alexandra Park, a few months after winning an Australasian Breeders Crown heat.
But he has also mixed it up - successfully - on a damp grass track at a lowly New Plymouth Tuesday afternoon meeting.
The winner of 10 races, he has always had some minor X-factor but has also lacked the strength to implement it and Herlihy is the first to admit that at Alexandra Park these days Swift Therapy sometimes finds the going just a length too tough.
"I think a lot of people don't realise how hard the racing is at Alexandra Park at the moment," said Herlihy yesterday.
"You can take really nice horses there and they have to pace 2:40 for 2200m and end up running a handy fifth.
"He can still win at the Park but not unless things go his way, whereas at the grass track meetings he has more options."
Being by Christian Cullen out of a speedy mare in Swift Mirage, Swift Therapy would hardly seem the ideal grass track horse.
But he has had two starts on the green for two wins, including last season's Hawera Cup.
And more importantly, considering the weather forecast, both those wins came on rain-affected going.
While his form doesn't initially look anything special heading into today's 2600m standing start event he was third to high-class stablemate Statesman at Alexandra Park three starts ago and has been just behind the placegetters in hot fields since.
"They haven't been bad runs and, to be honest, he has probably just been getting beaten by better horses.
"But providing he steps away safely on Thursday he is going to be hard to beat." Swift Therapy is a little hit or miss from a stand, having won three of his six starts from behind the tapes but having been unplaced in the other three.
Often backing horses who could be back in the field on grass tracks is a financial death wish but the composition of today's field, with few of the favourites off the front line and only one pacer starting off the 10m mark, could negate his 30m handicap.
It is impossible to go past him as the hardest horse to beat but the each-way value in the race could be Bigproudandready.
Three of his five wins have come on grass and he, like Swift Therapy, has been battling in stronger Alexandra Park company.
If you are having a decent bet on the favourite you could do worse than cover on Bigproudandready.
Add in J Walker, Cullen's Creek, Mighty Creation and Jonny English and today's field has enough depth to suggest the northern country cups series will be a serious one.
Cullen's Creek has a tough task, conceding the front markers 50m.
One of the better betting races of the day will be race six, which brings together some in-form trotters and should provide great value around the likes of Katelin Brooke, Charles De Cazanove and Moment Of Truth.