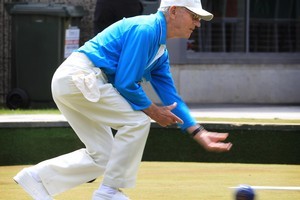 Though not without some concerns, 2008 double world champion Gary Lawson remained on track after yesterday's opening day in Auckland to achieve his two main aims at the national bowls championships.
One is to gain his 11th national title to place him one ahead of the legendary Nick Unkovich and give him the outright record for most championships and the other is to regain his place in the national Black Jacks squad, where his experience and expertise would be an asset.
Lawson and his Auckland lead Chris Le Lievre, who won this title with Canadian Ryan Bester last season, won all three of their pairs matches yesterday at a wind-swept Birkenhead green to almost ensure themselves a post-section place when qualifying ends today.
But none of yesterday's three wins came easily and in particular Lawson and Le Lievre's opening match, against two former national titleholders Ross Haresnape and Nino Vlahovic was an epic contest worthy of a final.
The Lawson pair won 17-16 after an extra end was needed when the scores were tied 16-16 after the regulation 18 ends.
That was followed by two other tight matches, 17-15 against an inexperienced St Heliers pair of Paul Renwick and Richard Kempthorne, who came close to causing a major upset after suffering a 31-8 hammering in the opening round from Birkenhead greenkeeper Dennis Matthews and Keith Burgess, and then 21-19 over the pair skipped by Carlton-Cornwall stalwart John Carruthers.
Lawson, though, slightly rusty after having to prepare on earthquake-affected greens at his Canterbury base, welcomed the tightness of all his games. "It gets you into a good groove," he said.
Lawson was at his effective best against Vlahovic, the 1996 national singles champion who is now back bowling on Australia's Gold Coast after many years away from the game. He drew the winning shot on the extra end, after earlier saving a four which could have seen Vlahovic away to a 19-10 lead.
Upsets were frequent yesterday in both the men's pairs and the women's singles qualifying because of the difficult blustery conditions.
Internationals Richard Girvan and Danny Delany were among the prominent first round losers, though they came up against high-profile opponents in former Black Jack Jamie Hill and his father, Neville, the Hills winning 16-10.
Girvan and Delany recovered to win their next two games and should qualify today. Another former national titleholder Petar Sain and his Auckland lead Scott Cottrell suffered two losses and so cannot afford another today. But among the winners were Shannon McIlroy and Matt Gallop and the 2009 champions, Rob Ashton and Ray Boffa.
The casualties in the women's singles, where three games were needed from yesterday's four rounds to make the post-section, included recent New Zealand player Genevieve Baildon and Jo Babich, a double national champion in 2008.
Mandy Boyd, Anne Bateman, Reen Stratford and Clare McCaul, who thumped Babich 21-6, were among top players to suffer an early loss, but two who were impressive in sweeping through their opening three matches were Wellington's Kaaren Guilford and Northlander Sue Wightman.
Guilford was runner-up last month in the Auckland Open at Henderson, while Wightman was the national singles champion in Auckland in 2009.