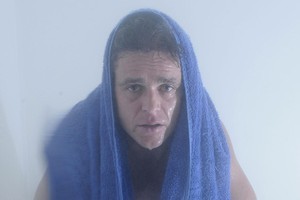 Controversial Melbourne jockey Danny Nikolic has made everyone think about what they'll eat for lunch and dinner tomorrow.
This week Nikolic went public on what many in racing have known for some time - he regularly regurgitates his food to continue to ride light.
Nikolic says the practice - known as "flipping" in racing - is all that has kept him in race riding.
And even the announcement this week that minimum weights in Victoria will rise from 53kg to 54kg from January 1 will make little difference to his horrendous weight regime, he says.
Nikolic said he knew flipping was a dreadful practice and not conducive to a healthy lifestyle, but believes it's something he's had to do to stay in the game.
"I have a quarterly check-up with my doctor and regular blood tests to make sure I don't suffer too much."
Leading New Zealand jockey James McDonald said he has regularly seen Nikolic flip at race meetings when riding in Australia.
"It's not unknown in New Zealand, but I don't know of any jockey who does it on a regular basis here.
"I prefer to do it the proper way, otherwise there's too much wear and tear on the body.
"Danny struggles with his weight, but still rides at 53kg, so flipping is obviously working for him."
Nikolic, 37, told the Herald Sun he wanted the weight scale to rise 2kg as the extra kilogram would have made a significant difference to his daily grind.
"To make the weight, I've got to flip whenever I have to ride around 53kg," he said.
"It's not good for you. A lot of jockeys do it. All the French and American jockeys do it. It's something I learned when I was in Hong Kong.
"Not many [jockeys] like talking about it, but it doesn't worry me. Some jockeys do it too much."
"I always try to have three meals a week if I can, so I can keep them down."
Those three meals are high in iron. Generally it's a lean steak, a luxury.
McDonald has his own weight issues which, even if not as severe as Nikolic's, outline the tough battle many jockeys have with increasing weight.
He says his Christmas Day meal will comprise one piece of turkey.
"I'm not complaining because we chose to be jockeys and I love the job, but the big issue is that there is no relief from wasting.
"We're watching what we eat every day of the year - that makes it extremely tough.
"This is the busiest time of the year and you have to do it tough while everyone else is living life to the full.
"On New Year's Eve my mates party, but I have to watch what I do because I'm riding at Ellerslie the next day."
McDonald says that apart from his tiny plate of food tomorrow he will go for a run in the afternoon and spend one hour in the sauna tomorrow night.
Switch to emerging apprentice Alex Forbes.
At a birthday party for older brother Mark, yearling manager at Cambridge Stud, the Cambridge teenager yesterday feasted on snapper he caught himself on Thursday.
Following the snapper on the menu was roast wild pork.
He'll follow up today with three full meals then tomorrow he has Christmas functions for breakfast, lunch and dinner.
"And I'll end up with strawberries and ice cream," he says.
That's what you can do when you are 42kg and don't have to ride lighter than 56kg at Ellerslie on Monday.
Nikolic and McDonald don't want to know.