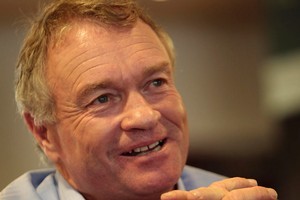 When Steve Hansen picked up the phone to sound out the man he wanted as an external selector, the immediate reaction he got was probably not what he expected.
"My first reaction was, 'Shag, I'm just trying to get my life back'," said Grant Fox, yesterday named All Black selector alongside Hansen and assistant coach Ian Foster.
Fox notified Sky TV he was leaving some time ago and was looking forward to some time at the beach with wife Adele and generally "getting my weekends back". But when your country comes calling, is there a way to say no? "No, there's not really."
Fox said if Hansen had asked him to be involved in the coaching side of things, he would have turned him down, simply because of the time commitment, but being a selector outside the group gave him the chance to reconnect "with a team I'm very passionate about".
"Steve wants someone from the outside looking in. The words he used to me were: 'Sometimes when you're in the forest you get lost.'
"By that he means you're working with the group, you're very close to it and sometimes you miss things. Someone on the outside might see something a little bit different. That's part of what he wants me to bring; to be on the outside and to challenge their thinking, to debate."
As Hansen put it: "In Foxy, we've got someone who is very analytical and will make a great selector. His role is to be that third selector, be a little bit provocative, and question why we're doing things."
The former first five-eighth's philosophy on selection leaned more towards the instinctive, rather than the modern way of crunching numbers and KPIs, "but that's not enough any more", Fox acknowledged.
"There is technology that gives you an awful lot of information about players and that's one of the tools you use, but it's by no means the only part or even the dominating part.
"Form is also very important, but it's not the only thing. Past history in terms of showing the ability to step up to level is an important part of it.
"Part of the intuition is whether you think a player can step up or not, because not everyone can step up to test rugby."
The 46-test All Black will concentrate his efforts on watching games in the north of the country live, while watching as much of the rest as he can on television. He will be sent files to watch on computer, though he hastens to add he will have no role in video analysis.
Fox, who will step down from his position on the Blues board, said the challenge for this panel was obvious.
"The All Blacks climbed Everest [in 2011]. The challenge is to keep them there. In many ways it's easier to take a team that's down a bit and trying to lift it.
"The All Blacks need to win. That's what the New Zealand rugby public demand. A critical part of that is getting your selection right. Your first part of coaching is getting selection right and if you do that, it makes coaching that little bit easier.
"We've got plenty of talent in New Zealand, there's a lot of depth."
There are also senior players who are, in Fox's words, in the twilight of their careers. While it will not be his job to convey to players when their time is up, it is an issue the panel will have to deal with at some stage.
"It's always a hard thing, I had to do it as a coach, too. Even telling players they're not picked for a particular game is hard enough, let alone in a funny sort of way almost calling time on a career. That goes with the territory."
Every decision will be about "the team". Nothing will be done that compromises the All Black ethos of setting out to win every test they play.
"Steve's got a two-year term, we need success straight away," Fox said. "He'll want to carry on, naturally enough, and success will be a big part of whether he gets that opportunity or not. The public will demand. You're not allowed to rebuild and lose at the same time here. It's not acceptable."
The team
IAN FOSTER
Assistant coach
Age: 46
Chiefs coach 2004-11 (best result 2nd in 2009)
Co-coach of the Junior All Blacks from 2005-07 (winners of the Pacific Five Nations tournament and the expanded Pacific Nations Cup)
Foster is the most-capped Waikato player (148 games) and played 28 games for the Chiefs
BRIAN McLEAN
Defence coach
Age: 58
Assistant coach of Samoa at the 2011 World Cup
Coached the New Zealand Under-19 team to five world championships (three victories)
Canterbury coach 2002-05 (won NPC in 2004)
Assistant coach with the Hurricanes 2006-08
GRANT FOX
Selector
Age: 47
Former first five-eighths who played 46 tests for the All Blacks (645 points)
World Cup winner in 1987
189 matches for Auckland from 1982-1993 (2746 points)
Has been on the coaching staff of Auckland and the Blues, as well as a Blues board member
Commentated on the 2011 World Cup for Sky TV