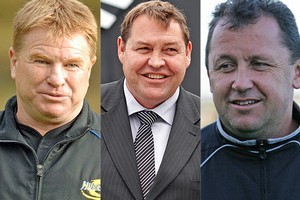 All Blacks coach Steve Hansen believes his new coaching staff and selectors will keep the World Cup winners "ahead of the pack" as they enter a new era.
Former Chiefs coach Ian Foster was this morning named assistant coach and All Blacks great Grant Fox a selector. Former Hurricanes assistant Brian 'Aussie' McLean was named defence coach and a skills coach will be added to the staff in the new year.
Hansen, who was given the top job last week after assisting Graham Henry for eight years, has a long association with Foster and McLean - going back to his club rugby days when he and McLean were in the same side.
They coached Canterbury in 2001, winning the NPC title and retaining the Ranfurly Shield.
At a media conference at Rugby Park in Christchuch today Hansen, 52, said that association was "irrelevant" when it came to picking his team.
"Aussie and I go way back but that's irrelevant as to why he's in this job. After a lot of research and looking both in New Zealand and externally, these were the guys that fit the criteria we were after.
"They'll come in with some fresh ideas, obviously. But the team has been reasonably successful - 86 per cent winning - so not a lot of changes need to be made. We just have to re-jig it a little bit and make it better.
"We've got to make sure we stay ahead of the pack, be innovative. But at the same time, you don't want to go and throw the baby out with the bath water."
Hansen said McLean, a close friend who was born in Australia but raised in Wellington and Christchurch, would pick up analysis done by Henry as well as former assistant coach Wayne Smith's defensive responsibilities.
"Aussie is very strong in analysis and he understands attack well. If you understand attack well, you understand defence well. To me, it was a logical fit."
McLean accepted that in following Henry and Smith, he had "pretty big shoes to fill".
The diminutive coach said: "I'm thrilled to be given an opportunity like this. I feel quite privileged and humbled, but I think I can do a good job.
"It's another rugby team - it's a pretty special one, but it's another rugby team. And the game isn't a rocket science."
McLean said he and Hansen shared similar philosophies on how the game should be played.
Hansen described Foster as "a good man manager and strategical planner", and played down criticisms that the Chiefs have failed to win any Super 15 titles, despite Foster being at the helm for seven years and more than 100 matches.
"There's no doubt he's a good backs coach," Hansen said. "He's brought through a lot of All Blacks. He may not have won too many championships, but not a lot a of our current Super 15 coaches have."
The biggest talking point in his selections has been the appointment of former Sky TV commentator and former All Blacks first-five eighth Fox.
But Hansen said a detached view would give them "balance".
"In Foxy, we've got someone who is very analytical and will make a great selector. His role is to be that third selector, be a little bit provocative, and question why we're doing things. It allows us to sit back and look at the forest as a total and say, well, we need to look at this."
- APNZ